View Gallery
Hockenheim's Jim Clark Memorial saw a Group C programme reassembled, for the first time since 1985. Black and gold proved the other dominating theme at the weekend.
The Jim Clark Revival meant a very full racing programme in the last weekend of August at the Hockenheim race track, where the great Scot perished 53 years ago. Touring cars, GTs, Formula 1s and other single-seaters, CanAm racers, but most of all: Group C. Hockenheim was the first rendez-vous of the new Group C Supercup, instigated by Gebhardt.
Gebhardt proudly showed three of its own Group Cs, the C91 with Michael Lyons behind the wheel, the Audi-engined C88 driven by Marco Werner and the freshly restored JC853 driven by Michael Herich. In the race, Werner had to park the car with what appeared to be a suspension failure after four laps. Michael Lyons stormed through to take victory, ahead of Lars-Erik Nielsen in a Porsche 962. Tony Sinclair in the Spice SE90C claimed third spot. The splendid Jaguar XJR11 (Vercoutere-Müller) put in second-fastest time in qualifying but unfortunately did not make it the race.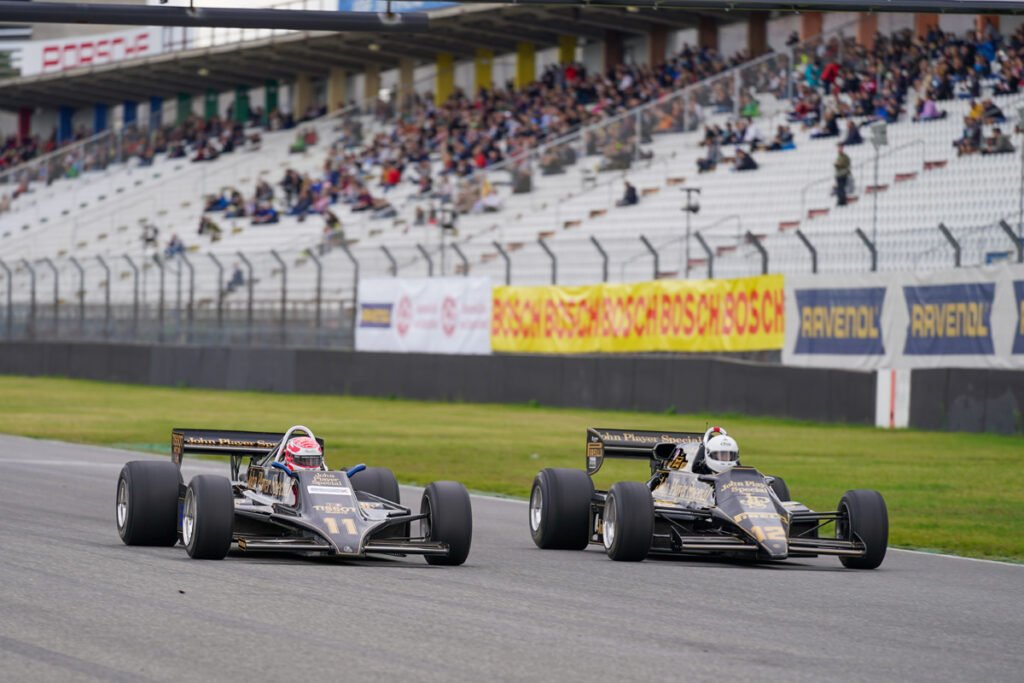 Black and gold
Busy man Marco Werner also demonstrated the Black and Gold Lotus Formula 1 collection Chrome Cars is assembling. This was the first time the cars appeared together in an event. They were not raced, but different drivers did demo-laps.
Touring cars
The different touring car classes only proved tin-top racers have lost nothing of their popularity with both crowd and drivers. The GT-Classics brought both Group 5 monsters, Group A touring cars and STW touring cars together, whereas Tourenwagen Classics focused purely on the touring cars from different eras. Peter Mücke in the Ford Zakspeed Turbo Capri dominated proceedings in GT-Classics, with Achim Heinrich coming second in his BMW M1 Procar and Gerhard Füller third in the Opel Vectra STW.
Füller won in his Vectra in the Tourenwagen Classic, run in the rain. Steffen Lykke Gregersen came second in his BMW M3, with Marc Seesing rounding up in third place, also in a Group A M3. Kris Nissen came fourth in a former Schnitzer DTM BMW M3.
For 2022, the Hockenheim Historic Jim Clark Revival hopes to retake its traditional spot earlier in the year. The meeting is scheduled for the weekend of 6-8 May.