Photo Porsche
In 1982, Porsche embarked on one of its most successful adventures in racing. With the 952 and the 962, Porsche would utterly dominate Group C (and IMSA) racing. Forty years later, we look back in a series with Jochen Mass, Derek Bell, Hans-Joachim Stuck and Bernd Schneider. Today, part 3: Bernd Schneider.
What's this guy in Mercedes overalls doing here? Testifying what a great car Porsche 962 still was when it neared the end of its career. Bernd Schneider (58) is still a rookie compared to the other ambassadors, but there is no denying the German-built an impressive career as a five-time DTM champion, all with Mercedes. No one did better. From 226 starts in the DTM, he scored 43 victories. Again, a record that still holds today. And of course, Schneider was a certainty in Mercedes endurance program with the CLK GTR. Even today, he remains an ambassador for Mercedes. Hence the overalls.
Kremer calls
Less well known is Bernd Schneider's history with the Porsche 962. The German was at one point a semi-works driver, after Erwin Kremer and the 962 had come to his rescue when his career was stalling. "I was in Formula 1 with Zakspeed in 1988. It wasn't the happiest of times for me, we did not qualify often. In 1989, the Yamaha Zakspeed project was underway, but by then I had last faith. I was trying to quit, but Erich Zakowski wouldn't let me. I was on three-year contract, he reminded me. And then in March, the whole Zakspeed operation folded. Naturally, all the other seats were gone by then."
"That's when the call from Kremer came. Kremer was one of the famous privateer teams running Porsches in Group C. Kremer Porsche had suffered a couple of severe accidents with Manfred Winkelhock and Jo Gartner. But I found a great team, and Erwin Kremer really had it in for me. On top of that, the Porsche 962 perfectly suited my driving style. Because of my Formula 1-experience, Porsche asked me to do some test work with the Porsche-engined Footwork Arrows F1, making me half a factory driver."
More downforce than F1
"The Porsche 962 by the end of the eighties was no longer the dominating force. But it was still a fast car, with up to 900 hp on tap. I really enjoyed driving it. As my teammates were a bit slower than me, they were the ones doing the fuel-saving and I could go for it (laughs)."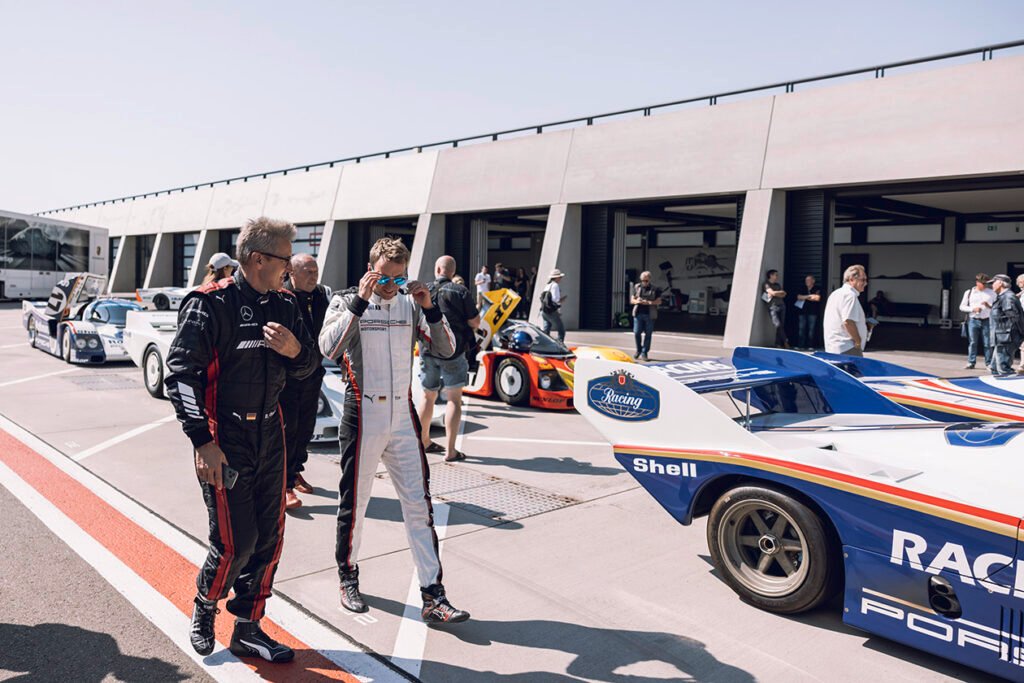 I hit a top-speed of 221 mph on the straight, the first ever to do so at the Glen

Bernd Schneider
Schneider was surprised by some aspects of the Porsche 962. "We did not have the same downforce in Formula 1. When I took the Eau Rouge corner in Spa in the 962, I could do it flat-out. That didn't happen in a Formula 1. It was not easy, but the car gave you the confidence to do it. The experience I had with aerodynamics and the locked differential in the 962 helped me. In the slow corners, it was a matter of hanging on."
Cracking 221 mph at the Glen
In 1990, Schneider drove one of the carbon chassis 962s Thompson Industries had built on behalf of Kremer. He managed to score fourth in the WEC-round in Montreal, and win an Interseries race in Most with it. For 1991, Schneider moved to the Joest team. With a Porsche 962C, he participated in the IMSA championship.
"Even if the tracks were dangerous, I loved driving in the USA. One of my best memories in the 962 came at Watkins Glen, where I took pole position. But it wasn't so much that I took pole that made people come to me. On my fastest lap, I had hit a top speed of 221 mph (353 kph) on the straight, the first ever to do so at the Glen. People came up to me to say: 'So you're the guy who clocked 221 mph on the straight?'."
Tangling with Reuter
Next to the IMSA championship, Schneider also competed in the Interseries. In 1991, he would be crowned champion. "I had a great fight with Manuel Reuter at Zeltweg in Austria, where I had bagged pole position with an average speed of 248 kph (155 mph). Manuel and I touched in the race and did two 360-degrees spins. Manuel cut a tyre in the process, I went on to take victory."
In 1993, Bernd Schneider appeared one last time in a Joest-entered Porsche 956 at Sebring. But by now his DTM campaign with Mercedes was going full-steam ahead. Without Porsche, it's questionable if Schneider's career would have looked the same.