Photo RM Sotheby's
On October 29th, RM Sotheby's has one of the most complete single-seater collections ever up for sale. In its 25-year existence, the Newman/Haas team was consistently a powerhouse of Indycar racing. Paul Newman and Carl Haas saw their cars score 108 wins and 8 championships. In this series, we take a closer look at the Newman/Haas history.
The Newman/Haas tandem was not the most obvious one. Actor/racer Paul Newman ran his own Can-Am team at the end of the seventies, early eighties. He ran a Lola, which came courtesy of the US Lola importer Carl Haas. Newman, in Matt Stone's book 'Winning, the racing life of Paul Newman': "Carl Haas would provide my Can-Am cars, late, overweight, and over budget."
"Not a chance Carl"
So, imagine when in 1982 Carl Haas placed a phone call to Newman with an offer: 'How would you like to start an open wheel racing team?' Newman responded: 'Not a chance in hell, Carl.' To which Carl Haas said: 'What if Mario was driving?' Newman said: 'Where would you like to meet?'
The meeting took place in September 1982. It was Mario Andretti who behind the scenes had been instrumental in pushing Haas to contact Newman. Lola was to come up with a brand new Indycar, a first for the British constructor. And Mario Andretti, who had just retired from Formula 1, was to be the sole driver.
Learning year
The first Newman/Haas year in the 1983 CART season proved to be a tough one. Lola's Eric Broadley was learning the ropes, having never before designed a ground effect Indycar. But in a March-dominated field, Mario Andretti managed to score two wins.
First carbon fibre Indycar
For 1983, Lola came up with the car you see here: the T800. At Andretti's demand, Lola brought in Nigel Benett, a former Lotus F1 designer. Together with Mark Williams and Broadley, they came up with the first carbon fibre reinforced tub in CART racing.
Six wins
Andretti made his mark at the first race of the season. At Long Beach, he took pole and victory in the new, Ford Cosworth-powered Lola T800. Andretti set pole over half a second faster than his next competitor. At the Indy 500, Andretti was the first to ever run at the Brickyard at over 212 mph. The race didn't go well, though. After 153 laps, Andretti had to retire after an accident in the pits. At Michigan, Andretti did take a win in a 500-mile race on the fast oval. By Road America, in August, Andretti notched up his fourth win of the season, taking command of the championship for the first time.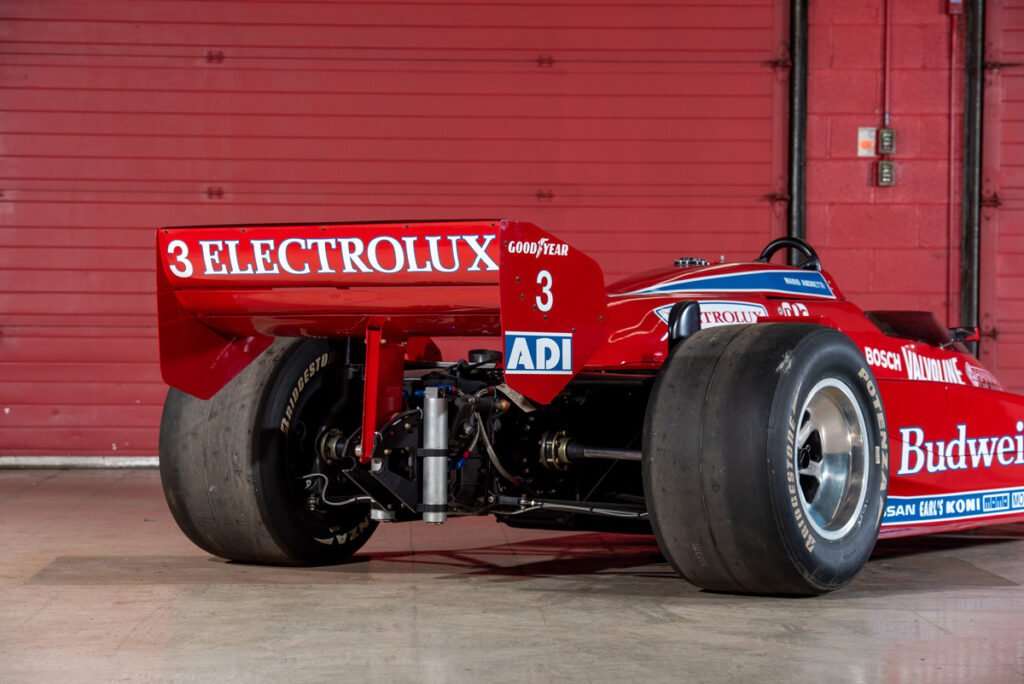 Chassis 2
Even two broken ribs, the result of a boating accident, could not hold Andretti back. He won six races and opted for a more cautious approach in the final races of the CART season in order to secure the championship. In the final race of the season, the Caesar Palace GP in Las Vegas, Andretti finished second behind Tom Sneva. He handed the Budweiser-sponsored Newman/Haas team their first championship (of eight in total).
This car, chassis 2, is one of five Lola T800s produced. It played a major part in securing Newman/Haas' first Indycar title. The car has remained with Newman/Haas and later Carl Haas for 38 years. In US single-seater history, they don't come much more significant than this one.
This car is one of 36 Indycar single-seaters from the Newman/Haas collection RM Sotheby's auctions off on October 29th. More info on this one-of-a-kind sale here.