Photo Manuel Portugal
Rally Portugal 1986. Here is where Group B derailed. Literally, and with fatal consequences. As we stand with that car in that spot, we retrace the whole story. A story you think you know, but you don't.
We expect to start shipping issue 2 of Tazio Magazine from December 20th onwards. This means the first copies should start arriving between Christmas and New Year. With a bit of luck, the first customers could hold their copy even before Christmas. We don't know about you, but that makes us real happy.
Fafe
Over the coming weeks, we will let you know a bit more of what you can find in our second issue. Let's start with the cover. What you see is our artist-in-residence Rafael Varela's take on how Rally Portugal could have gone in 1986, with local legend Joaquim Santos taking the famous Fafe jump in his real debut with the Ford RS 200.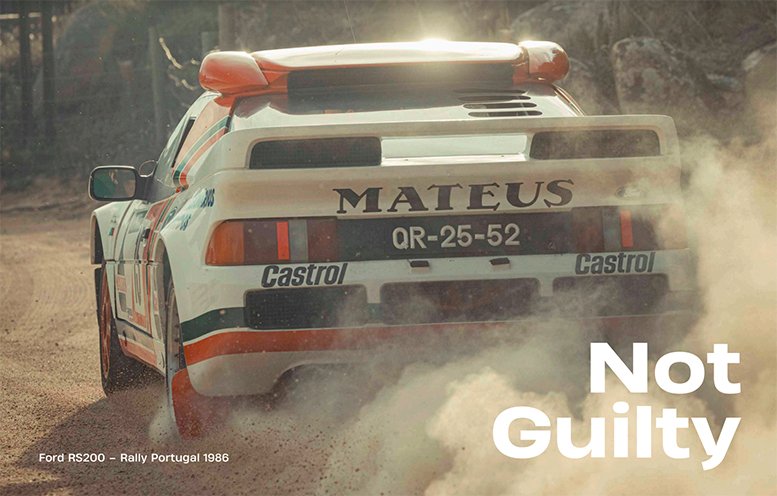 18 pages
But we all know this is not what happened. In reality, Santos left the road on the very first stage of the rally. With crowds so dense people were standing in the road, the drama that followed was inevitable. In an 18-page epic story, Hugo Reis takes that car back to that stage, beautifully photographed by Manuel Portugal. We hear the whole story of what happened, we look for explanations and we drive that mighty RS 200 back on that road to better understand what Group B meant.
An in-depth look at events that led to the demise of Group B at the end of 1986. We hear from drivers and co-drivers, and Joaquim Santos talks for the first time to an international magazine on the moment that marked him to this day.
Find this story in Issue 2 of Tazio Magazine, coming on December 20th. Order through our website (pre-ordering starts next week) or with our partners.