Photo Bonhams
Starts on the button, according to the description. Here is your chance to add a running Formula 1 to your collection. Bonhams has this 1993 Benetton B193B for sale at the Goodwood Festival of Speed auction this weekend. Both Schumacher and Patrese drove this car in 1993.
We are talking about the Benetton B193B, chassis 04. Both the Benetton drivers of the 1992 season, Michael Schumacher and Riccardo Patrese, used chassis 04 intensively during testing that season. Michael Schumacher would use it just once in a race weekend, practising for the British Grand Prix at Silverstone.
On the podium
In that same race weekend, Patrese ended up on the podium in chassis 04, finishing in third place behind Michael Schumacher in second and Alain Prost who took first in the Williams FW15C. All together, Patrese drove this chassis in five Grand Prix, finishing fourth in Spain.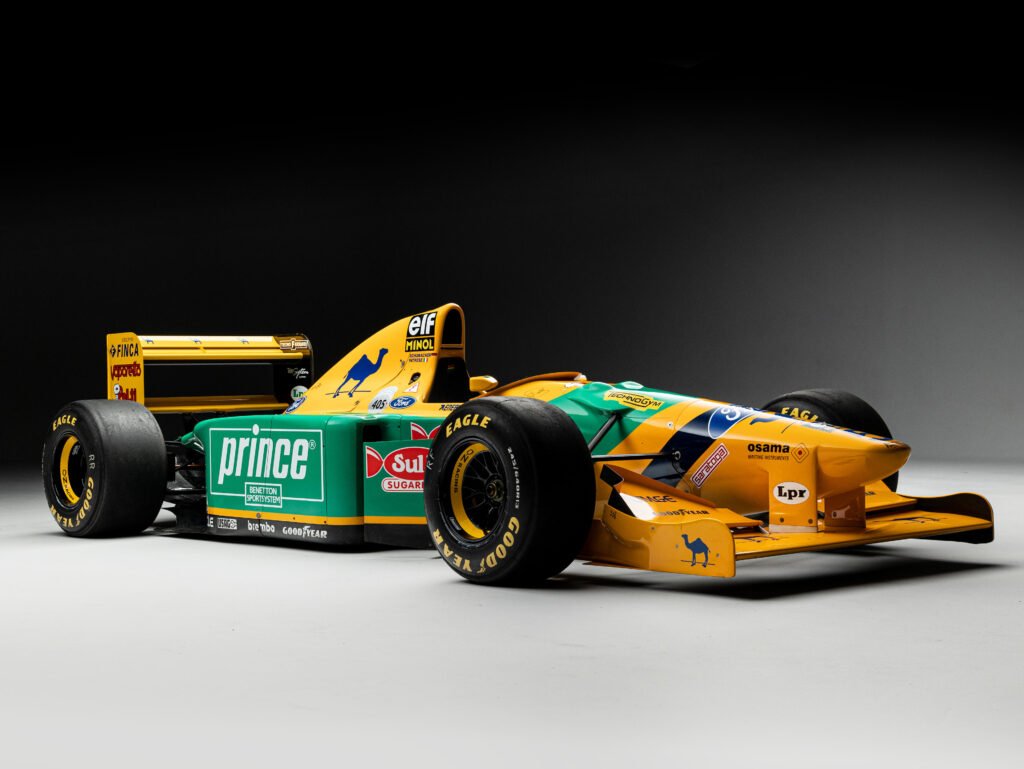 Active suspension
The B193B was the first carbon monocoque tub to be built in Enstone, at what is now the home of the Alpine F1 team. After a successful 1992, highlighted by Michael Schumacher's first F1 win at Spa, Benetton grew ambitious. The team with Ross Brawn sought technological solutions to help overcome the fact Benetton had to work with a client Ford HB V8 engine. Benetton came up with active suspension and an automated gearbox, which the team tested extensively.
Demo runs
The car has been kept in running condition and it appeared numerous times at the Goodwood Festival of Speed and in Durban in South Africa, where former Ferrari F1 world champion Jody Scheckter drove it for a Top Gear story. The suspension is now a more classical, non-active system that is easier to maintain. The ECU changed to a Motec system, and the Ford V8 was in the good care of specialist Dick Longford's LPE company. The engine has been downtuned a bit for better longevity.
Chassis 04 comes with the seat moulds for both Schumacher and Patrese, and tons of documentation. Bonhams expects the Benetton B193B to fetch between 1.28 and 1.86 million euros.
More info on the sale here.