Photo RM Sotheby's
RM Sotheby's holds a Le Mans-only auction to honour the centenary of the fabled French 24 Hours race. Next to your average multi-million bucks Le Mans contender – read: Rothmans Porsche 962, Martini Lancia LC2,… – there are a few oddballs that caught our attention.
Jacky Ickx overalls
It's the cheapest lot in the auction. Compared to the 5.5 to 6.5 million euros RM Sotheby's hopes to fetch from the 1955 Ferrari 121 LM Spider, 8.000 to 12.000 euros for a set of Rothmans overalls from a Le Mans legend seems reasonable. Even if this is still a lot of money for a pair of used overalls. Then again, when can you buy a racing suit Jacky Ickx wore, a man who held the record of overall victories at Le Mans (six) until Tom Kristensen broke it.
The suit dates back to 1985, which was Ickx' final season as a Porsche factory driver in the endurance team. Ickx' outfit differed slightly from the other drivers, with the logos of his personal sponsors Hertz and Bilstein placed above the Rothmans logo.
1963 Ferrari 250 GTE 2+2 'marshal car'
This one is a bit more expensive – expect to part with 550K to 650K according to the estimate – but where else are you going to find a Ferrari that served as a marshal's official car during the 1963 Le Mans 24 Hours. The car was ordered new by Franco-Brittanic Autos (FBA) Ltd in Paris, and dispatched to coachwork firm Chapron for some adaptations – extra lights, the flag stands front and rear – in preparation for Le Mans. FBA's Donald Sleator was a safety marshal and he used this car to venture out on the track during the race to assess accident scenes.
Sleator and the Ferrari had their work cut out and went out on different occasions. One was the particularly devastating crash that took place little before 21 hours when Bruce McLaren saw the engine on his Aston Martin DP214 blow as he was about to enter the Mulsanne straight.
With oil dumped all over the track, carnage ensued. The E-Type of Roy Salvadori and the René Bonnet Aerodjet of Jean-Pierre Manzon are out on the spot. Bino Heins, who was following McLaren directly in his Alpine M63, slides off and hits a lamp post. The car catches fire, trapping the unfortunate Reis, who does not stand a chance.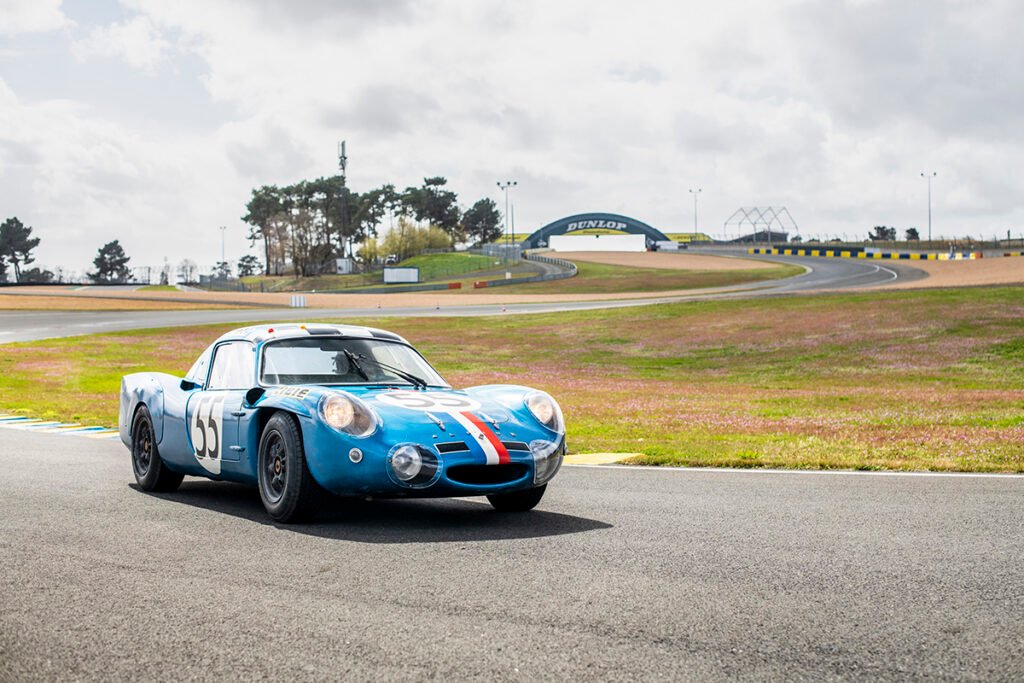 1967 Alpine A210
Over to the racing cars, and this incredibly well-conserved Alpine A210. This car was the winner was a winner in the Index of Performance in 1968 with Jean-Pierre Nicolas and Jean-Claude Andruet, carrying the #55 and the tricolore band you see now. It was powered by a 1005-cc engine. If you don't know what the Index of Perfomance is, don't worry, just get a copy of issue 8 where we tell you all about Alpine and the Index classes.
This car, chassis #1725, did Le Mans three years in a row ('67, '68 and '69) as a factory entry and has been kept close to original (it has a different engine now, but these were swapped all the time in-period as well). You might have seen it at Rétromobile this year. As quirky French sports cars go, this is hard to beat. Might cost you 1.2 million though.
2005 Spyker C8 GT2-R
And finally, the one we secretly fancy. The Spyker C8 was a works entrant in the GT2 category in Le Mans in 2005, driven by Tom Coronel, Hans van Merkesteijn and Donny Crevels. All Dutch guys as Spyker was a Dutch company, created by Victor Muller who would later have a brief stint as the owner of Saab as well. Spyker has always had a difficult history, but always bravely tried to find its own niche, opting for extremely well-designed and engineered interiors.
With an Audi V8 engine and a Hewland six-speed sequential, the Spyker C8 GT2-R sure had some credentials, but its last place in the qualifying grid was an omen this would not be an easy ride.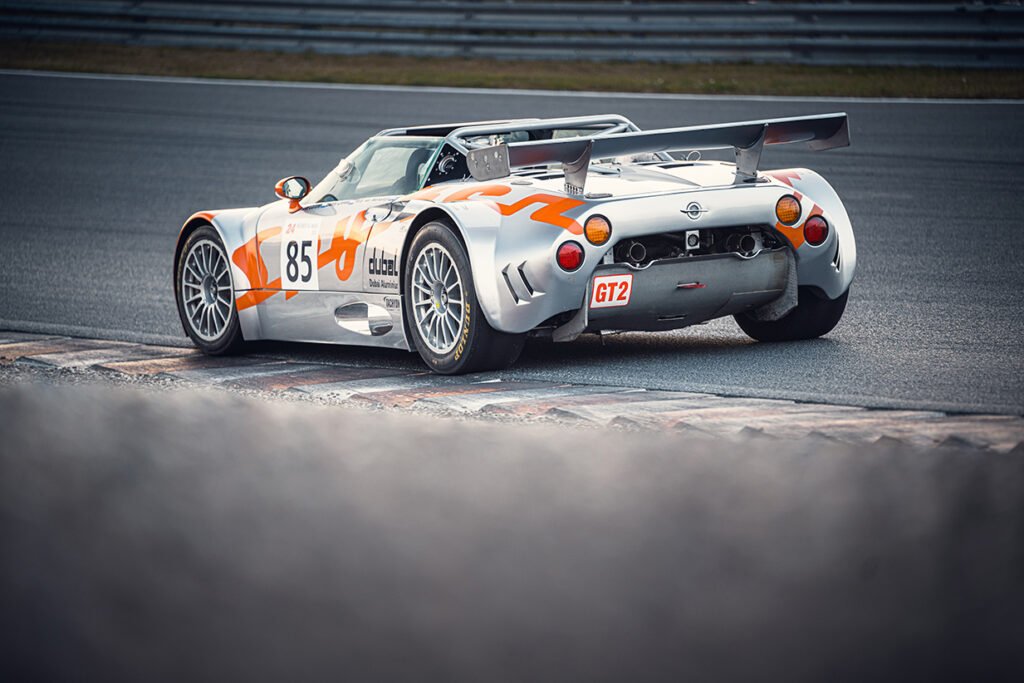 The Spyker made a good start and was moving up the GT2 grid until problems started around 8 PM. In the seventh hour, an oil line blew which caused a fire that led to Crevels to park the car. It's a weirdo, and with an estimate of 250,000 to 300,000 euros, it's actually a cheap way to get your hands on a Le Mans car with which you will always stand out.
More on RM Sotheby's sale, planned for June 9th on the Le Mans circuit, here.