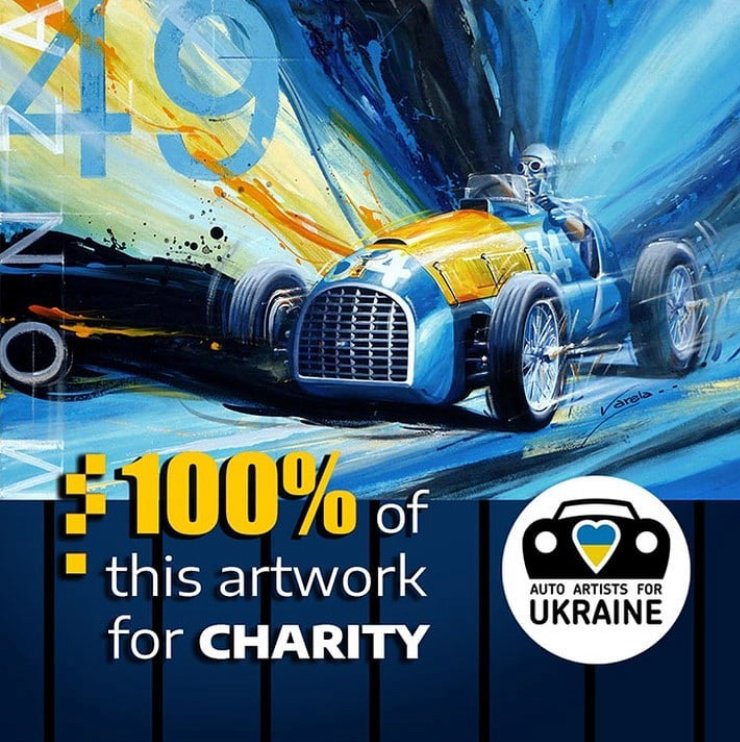 Rafael Varela Art
It was a completely spontaneous action. A group of renowned auto artists has assembled, selling their art for a good cause. 'Auto Artists for Ukraine' donate the proceeds of their sales to the British Red Cross 'Ukraine Crisis Appeal'. Our artist-in-residence Rafael Varela is one of the artists.
If you have been following Tazio for a bit, you know automotive art is a cornerstone of our magazine. This magazine is tremendously proud to work together with Rafael, his work is elementary in giving Tazio its own, unique identity among other magazines.
Just like so many others, the war in Ukraine and the horrible consequences for civilians have deeply touched us. And the same can be said of the different showings of solidarity. So, when a group of famous car artists get together, we really want to support their initiative.
Long list of artists
'Auto Artists for Ukraine' has work on offer from among others Paul Howse, Auto Lines, Speed Icons, Guido Herrmann and many more. Photographers Amy Shore and Remi Dargegen have also added some of their work. You can buy both prints and original artworks. The way it goes: you can order directly from the artist through their Instagram pages, and in return you receive a notice of the amount that the artist has forwarded to the British Red Cross. Some artists work the other way round: you show them the proof of the donation you have made to the Red Cross, and in return receive a digital copy of one of the works.
Fangio
Rafael has opted for this last solution, focusing on a work he made of Juan Manuel Fangio winning for the first time on European soil in Monza in 1949. The combination of Argentina's racing colours, blue and yellow, are identical to Ukraine's national colours.
We help as well
We want to do our bit as well. We still have a couple of posters left with the cover from issue 1. It's a limited print run of just 50, each poster has its own unique number. The poster depicts Tazio Nuvolari in his greatest race, the 1935 German Grand Prix. It measures 59 cm by 42 cm and is an offset print on high-quality paper. You can buy it in our webshop. If you mention 'Auto Artists for Ukraine' in the comments section, we will donate all profits from this sale to the British Red Cross. In return, we will send you a screenshot of the money transfer as proof.