Photo Mercedes Benz archive
Tommy 'Slim' Borgudd passed away in the UK on February 23rd, aged 76. Borgudd is famous as the man who brought ABBA into Formula 1.
Slim Borgudd is forever the 'former drummer of ABBA who was sponsored by the Swedish band in Formula 1'. However, there are some remarks to bring into that story. First of all, Borgudd does not appear on any of the albums ABBA made.
Björn and Slim
Tommy Borgudd was a talented drummer, born in Borgholm on the Swedish island of Öland, on November 25th, 1946. In the sixties, he made a name for himself in music, playing the drums with Swedish bands 'Lea Riders Group' and the prog-rock group 'Made in Sweden'. Björn Ulvaeus asked Slim to join his group 'Hootenanny Singers'. The two struck up a friendship, and Björn would ask Slim occasionally to play the drums in studio sessions with his next group: ABBA. Nonetheless, Ola Brunkert and Roger Palm were the regular drummers with ABBA, and Borgudd's name is not linked to any of the ABBA songs in particular.
Memphis Slim
We do, however, advise you to listen to 'Funky Formela', a funky record Slim Borgudd released in 1976 with the help of – among others – a V8 Ford Cosworth engine. Borgudd got the nickname 'Slim', when he filled in for the drummer whilst attending a concert 'Memphis Slim' gave in New Orleans. 'Memphis Slim' first named Tommy Borgudd 'Little Slim', and later it simply became Slim. He even had his name changed, so he could cash the cheques that were written out in the name of Slim Borgudd.
Formula 3
Music provided an income to spend on racing. A former pupil of the Jim Russell racing school in the UK, Borgudd was handy behind the wheel as well. Talented, but underfunded, which meant Borgudd's career had little ups and many downs. He took a win in the Swedish-Danish Formula Ford championship in 1973. In 1979, he won the Swedish Formula 3 championship and came third in the European F3 championship.
F1 debutant at 34
In 1981, Borgudd saw his chance to get into Formula 1 with Gunter Schmid's ATS outfit. Björn Ulvaeus allowed him to use the ABBA name on the car. No money changed hands, the deal had been to attract other sponsors with the name. And Ulvaeus come out to the German Grand Prix in Hockenheim to support Borgudd. When he debuted – aged 34 already – Borgudd outqualified his teammate Jan Lammers at the San Marino Grand Prix. In the next four races, Borgudd did not qualify, but at the British Grand Prix, he took a point for sixth. For 1982, Slim Borgudd moved to Tyrrell, but saw his funds dry up once more and he was replaced by Brian Henton before the season was over.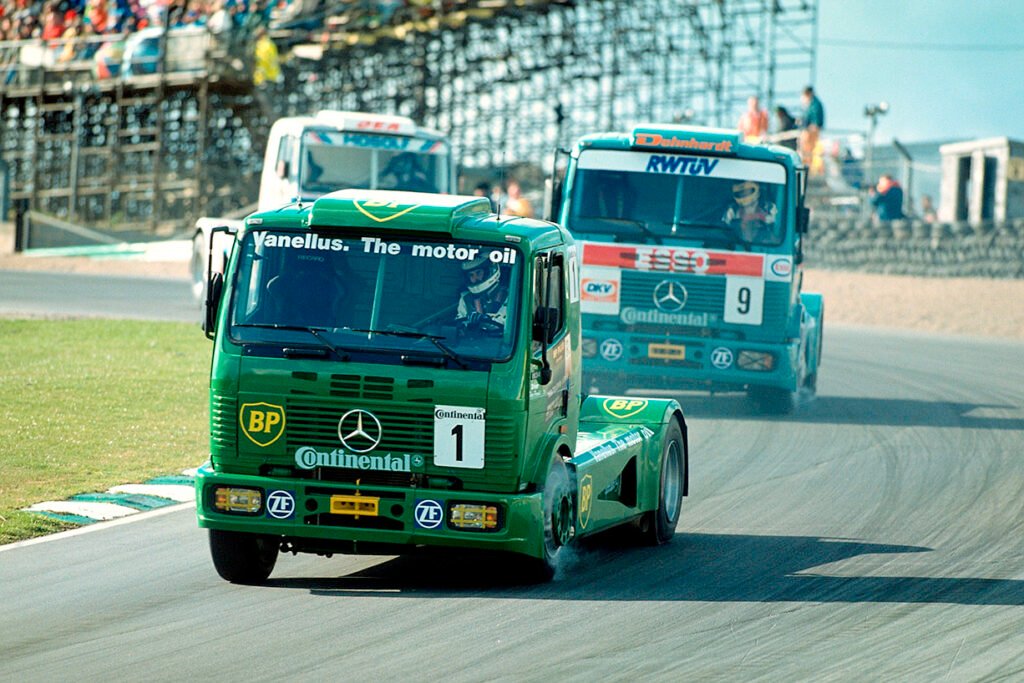 To trucks
Borgudd continued to move left and right, but without proper funding, he could never find an outfit where he was able to show his talent. That would come in 1986 when he made the move to truck racing. Slim Borgudd was European champion in 1986, 1987 and 1988, before the truck series became an FIA-regulated series. There he went on to become runner-up in the 1991 championship. Borgudd was one of the star drivers in the truck series, having plenty of hairy battles with Steve Parrish and Gerd Körber. In 1995, Borgudd won the European championship in the Super Truck category in his Mercedes.
Borgudd kept on racing, setting up Slim Racing in the UK, with Radical. Ultimately, he was an example of a talented racer – he won 179 races out of 379 starts – who just never got the break he deserved. Financially, he kept on giving to racing, meaning he was in a bad spot when his health deteriorated and Alzheimer's got a hold of him. Borgudd passed away on February 23rd.