One of the highlights at Silverstone Classic was the Porsche Group C parade, celebrating the 40 years of Porsche in Group C. 'The Classic' had other themes as well: a homage to Frank Williams and to Lewis Hamilton, for example.
'The Classic' as Silverstone likes to call it, makes the most of its move to the end of August, with the benefit of a bank holiday on Monday in the UK. The weekend of 27-28 August was filled to the brim with historic racing and different displays. A 100,000-strong crowd saw Rick Astley round up the weekend, if that should be considered a bonus.
Porsche train
Anyway, back to racing. First of all, as you probably have been aware, Porsche is celebrating the 40 years of Group C and its 956 and 962. Derek Bell led an impressive parade of 956s and 962s, ahead of John Fitzpatrick in the newly restored 'JDavid' Porsche 956 he raced before. Collector Henry Pearman was responsible for curating this impressive train of 956s and 962s on the move.
Tributes
Furthermore, Silverstone Classic had built up a display to honour Lewis Hamilton. All seven cars with which he won an F1 crown were lined up, opposite to some of the cars he raced against. Frank Williams was honoured at what was his home circuit as well. Finally, and we are just doing a quick recap here, Damon Hill was present to celebrate the sixtieth anniversary of his father's first F1 title, in 1962 with BRM. At the time, Graham Hill was the first British driver in a British car to take the title.
Formula 1
On the track, Mike Cantillon took victory in his Williams FW07C in both races of the Frank Williams Memorial Trophy for F1 cars (1966 – 1985). In Race 1 of the Masters Endurance Legends, Jamie Constable (Pescarolo 01) took victory after a penalty set Steve Tandy (Peugeot 90X) back. Race 2 went Tim de Silva's way in another Pescarolo prototype.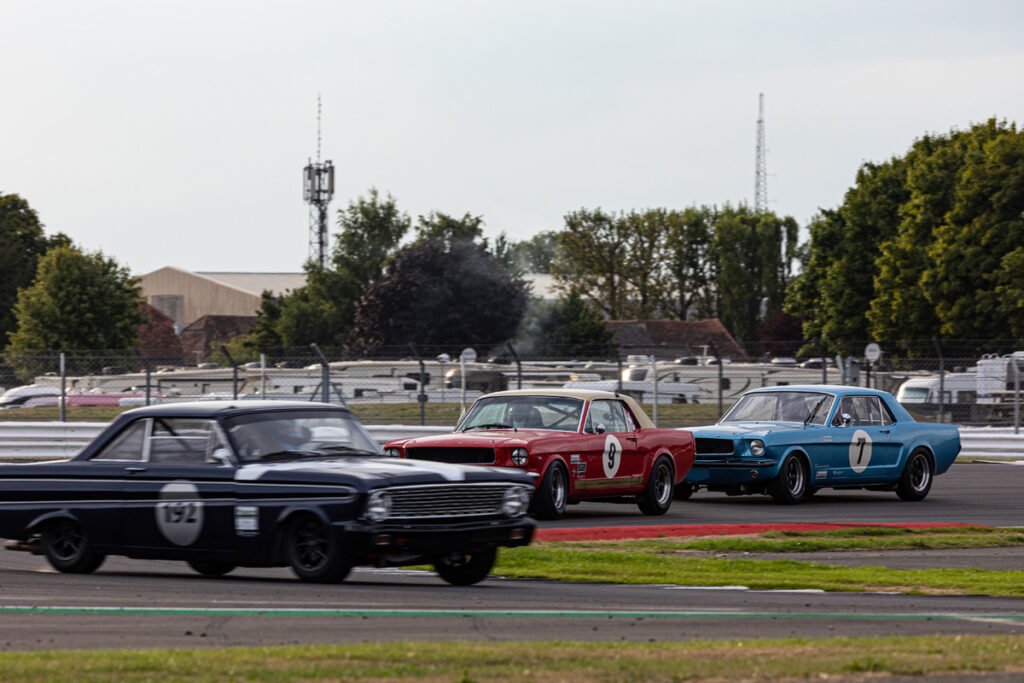 Touring cars
Julian Thomas and Calum Lockie steered their AC Cobra Daytona Coupé to the front of the 50-minute Masters Gentlemen Drivers race. The same duo won the Pre-66 Touring Car race in a Ford Falcon as well. Tom Bradshaw had to nurse his Chevron B19 across the finish in the Masters Sports Cars Legends race, but it's the result that counts, isn't it? The 1990 Nissan Skyline came out strongest of the touring cars in the Tony Dron Memorial.
Finally, The Classic featured two new races in the GT4 category. Seb Hopkins led from start to finish in race 1 in his Porsche 718 Cayman GT4 RS. Race 2 saw Freddie Tomlinson triumph in his Ginetta G56 GT4.