Photo Dirk de Jager
It started with just a few drops of rain. And then it got worse. Behind the scenes on our photoshoot with the AC Cobra 260 for issue 4.
When life gives you lemons, you pull a long face and you get on with the job. So far, we have almost always managed to 'save the shoot', even if conditions were less than ideal.
We thought it wasn't too bad when the first tiny drops of rain materialized on the badge. Honestly, we've been in much worse. Not a problem, it'll go away. And even if it persists, we can work with this. Perhaps it's important to note that we find ourselves in the South of England. Granted, it was a long time since we were last in the UK, and maybe we should have been a bit less optimistic. Or a bit more realistic. It does rain in the UK, you know.
One stoic owner
By the time we were out on the road for the driving pictures, it still wasn't too bad. By the time we were ten miles out, it was. You have to hand it to the owner, he did not seem to care one bit. But for the pictures, this wasn't the best thing. It's not a general rule, but often it applies: shit weather makes for shit pictures.
Overheating in the cold
On top of that, the Cobra made it clear even in the cold and in the rain, it did not like to trundle behind the camera car. Which it demonstrated by spewing steam and hot water. An overheating car in the rain, it's something else altogether. It also made one thing clear: with the rain continuing to come down in buckets, and with the car overheating; this photoshoot was not going anywhere.
So, we moved it a couple of days. Bright sunshine, scenic British coastline. Life's great… and then we ran out of fuel.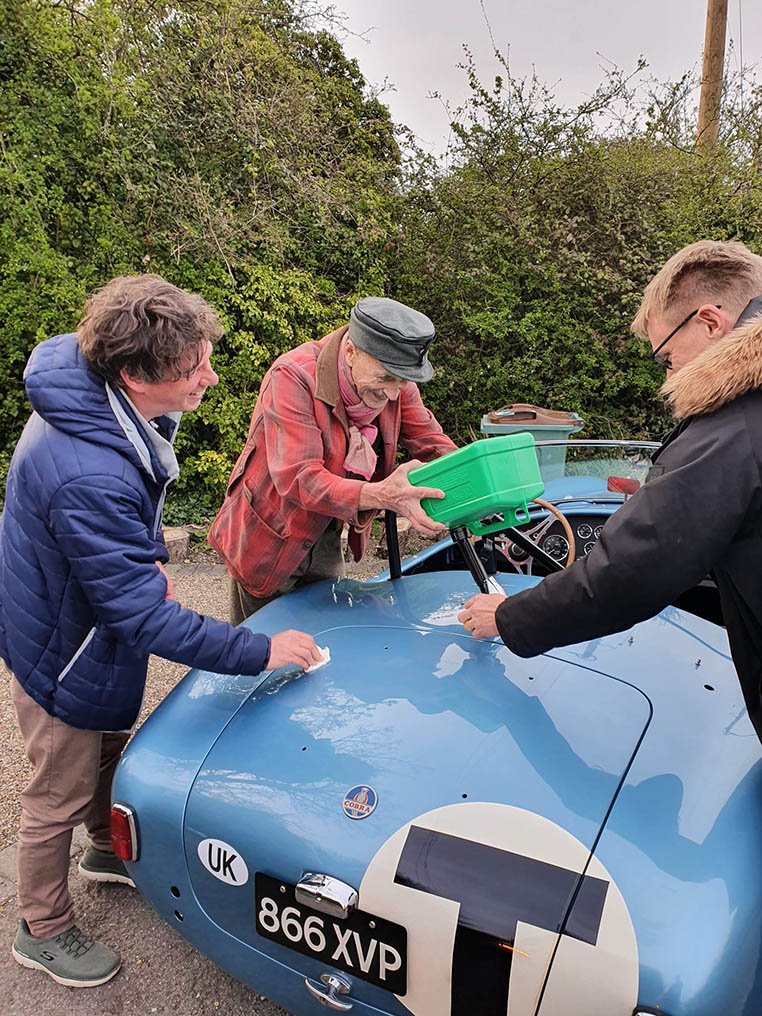 Anyhow, we warmly advise you to read the whole story behind this most interesting of AC Cobras, chassis CSX 2005, the car students used at the Carroll Shelby School of High Performance Driving at Riverside. Now in issue 4.