Photo by PA
With a superb display by the Red Arrows, festivities got going at the Goodwood Festival of Speed today. Here is a short impression.
Behind the wheel of the 1957 Le Mans-winning Jaguar D-Type, the Duke of Richmond declared his driveway open for three days of hill climb festivities. This year, Goodwood has plenty of reasons to celebrate; it's 75 years since the circuit opened, it's 30 years since the first Festival of Speed and it's 25 years since the first Goodwood Revival was held.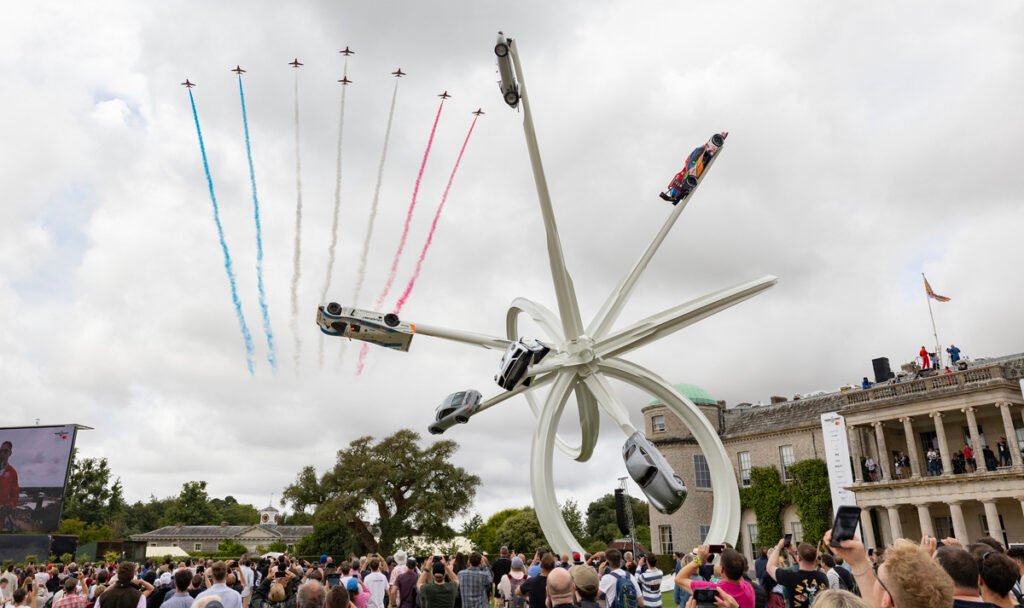 Porsche 75
On top of that, the Festival of Speed has its own party for the Le Mans Centenary. Porsche – 75 years old this year – is the celebrated brand. The central sculpture piece is designed by artist Gerry Judah. McLaren has brought a number of historic races to honour the fact that is sixty years in motor racing. There is Sebastian Vettel running his 1992 ex-Mansell Williams FW14B and his 1993 ex-Senna McLaren MP4/8 on sustainable fuel. And so much more. You can follow the Festival of Speed here.
UPDATE: Due to strong winds causing a safety risk for FoS's higher-built temporary structures, the organisation had to cancel Saturday's event. Sunday's FoS will take place as scheduled, but since this was a sold-out event in advance, Saturday's ticket holders will not be able to attend. More here.