Photo Renault
Jean-Pierre Jabouille passed away on Thursday, aged 80. The Frenchman was the first to score a victory in a turbocharged Formula 1 car, at Dijon in 1979.
Here is a man who scored 'just' two Grand Prix wins from a career that counts 'just' 49 starts. And when he was the first to win with a turbo engine in his Renault RS10 at Dijon in 1979, all the talk was about those who had finished behind him on the podium: René Arnoux and Gilles Villeneuve who had an epic duel for laps on end.
Art student
Still, Jabouille should be counted as one of the sport's greats, for his talent was not just limited to driving cars fast and smooth, but also he was key in developing these cars. Hence, he found himself behind the wheel at a time his car lacked reliability. Something that reflects on his resumé.
Jabouille, an art student no less, become known as a great engineers/drivers, with perhaps only Colin Chapman as a comparison. But whereas the Lotus genius opted to spend most of his time behind the drawing board, Jabouille made the opposite decision. Jean-Pierre Jabouille first made a name for himself in an Alpine A110 in hill climbs in France, beating the works drivers at the Mont-Dore hill climb. The secret turned out to be better preparation. Jabouille was able to use the circuit Ferrari collector Pierre Bardinon had built at the Mas du Clos. Jabouille's experimenting with the set-up not only gave him a competitive edge, but it would also come to define his career.
F1 debut
The Frenchman became one of the Renault Alpine's works drivers, whilst building out a career in single-seaters, supported by Esso. In 1975, Jabouille made his Formula 1 debut in a Tyrrell at Dijon. In the meantime, Renault was experimenting with turbo technology for the Alpine Le Mans prototypes. Jabouille was part of the squad and came close to winning Le Mans in 1977. He also drove the #1 A420 in 1978, the year Renault finally managed to win Le Mans with Didier Pironi and Jean-Pierre Jaussaud.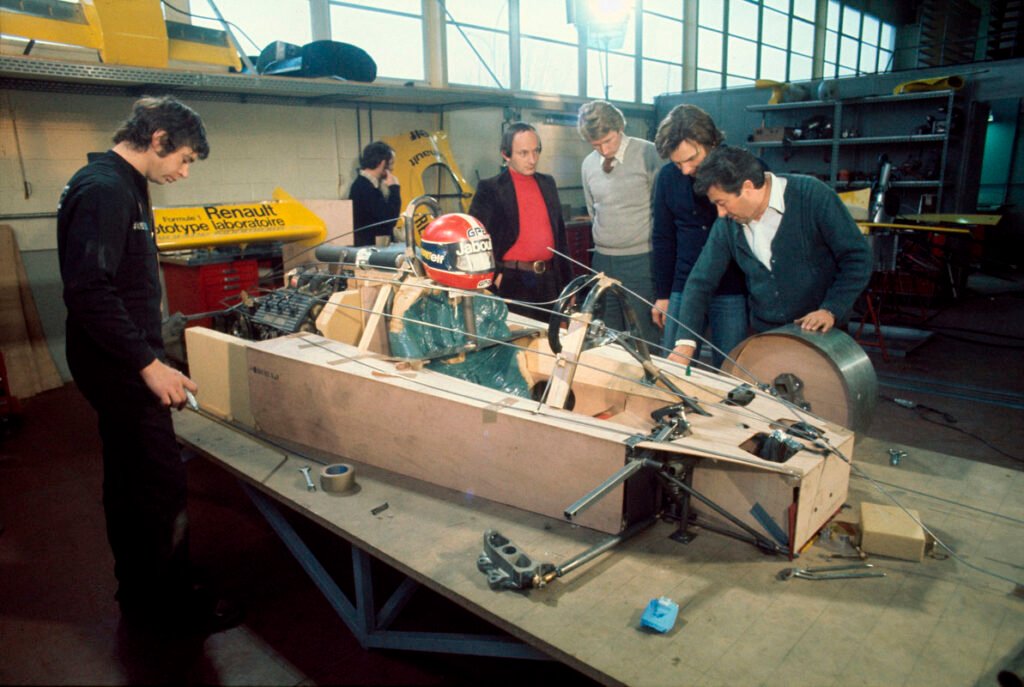 First time with the turbo
Jean-Pierre Jabouille by then had been recruited to start Renault's ambitious F1 project. He was in his thirties by then and later recalled the project seemed doomed from the start. With a 2-litre test engine, the turbo only spooled up by the time he reached the end of the straight, and with the later 1.5-litre engine, fuel pressure was problematic. When the Renault RS01 made its debut at the Silverstone for the British Grand Prix in 1977, Jabouille passed Ken Tyrrell in a cloud of steam coming from his new Renault F1. Tyrrell mockingly referred to the Renault turbo F1 as 'the big yellow tea pot'.
Pole at Kyalami
It would take Renault roughly two years to get some reliability from the engine. By 1979, Jabouille showed the potential of the Renault turbo by claiming pole for the South African Grand Prix, and at Dijon the first win was a fact. If by 1983 you did not have a turbocharged engine in the back, you could no longer win in Formula. Something Ken Tyrrell found out the hard way.
By then, Jabouille's career in F1 was over. A crash at the Canadian Grand Prix in Montreal in 1980 resulted in severe leg injuries. He would come back with Ligier, but found out he could no longer apply sufficient pressure on the brake pedal. In 1981, Jean-Pierre Jabouille was no longer a Formula 1 driver.
Peugeot
No matter, his days behind the wheel were far from over. He drove for Peugeot in the French touring car championship. When Peugeot decided to enter the Group C world endurance championship at the end of the 1990 season, it had been Jabouille who had asked Peugeot Sport boss Jean Todt 'if he would allow him to take a look at the car'. His subsequent changes to the aero apparently made the Peugeots seconds quicker per lap. It also led to a new shot at Le Mans, Jabouille finishing third on two occasions. He would continue to race until well into his fifties and would appear behind the wheel of various Renault race cars at demonstrations until recently.
Jabouille passed away in Paris, this Thursday, February 2nd. He was 80.