Sketch by HWA
Yes, these sketches got you drooling, didn't they? Indeed, HWA in Germany will bring us this Mercedes 190 Evo II restomod, come 2025.
This is the HWA Evo, HWA's first step into the restomod business. If HWA does not instantly ring a bell, this is the business Hans Werner Aufrecht kept after he sold his other company to Mercedes. And Aufrecht, that is the A in AMG. With HWA, Aufrecht also takes care of much of Mercedes' motorsport business.
DTM star
It's a beautiful choice for a first restomod. HWA could have chosen for the 300 SEL 6.8, the original AMG. Instead, HWA opted for the 190 Evo II. In many ways, that is the car that put the relationship between Mercedes and AMG into overdrive. Late eighties, early nineties, AMG (and other teams) ran the 190E 2.5-16 in the highly competitive DTM championship. The DTM opposed BMW, Mercedes and Audi. There was no middle way, you had to pick a side and there were even separate grandstands for each clan. The images of 190s and E30 M3s taking off on the humps of the Nordschleife are just what this touring car series so epic.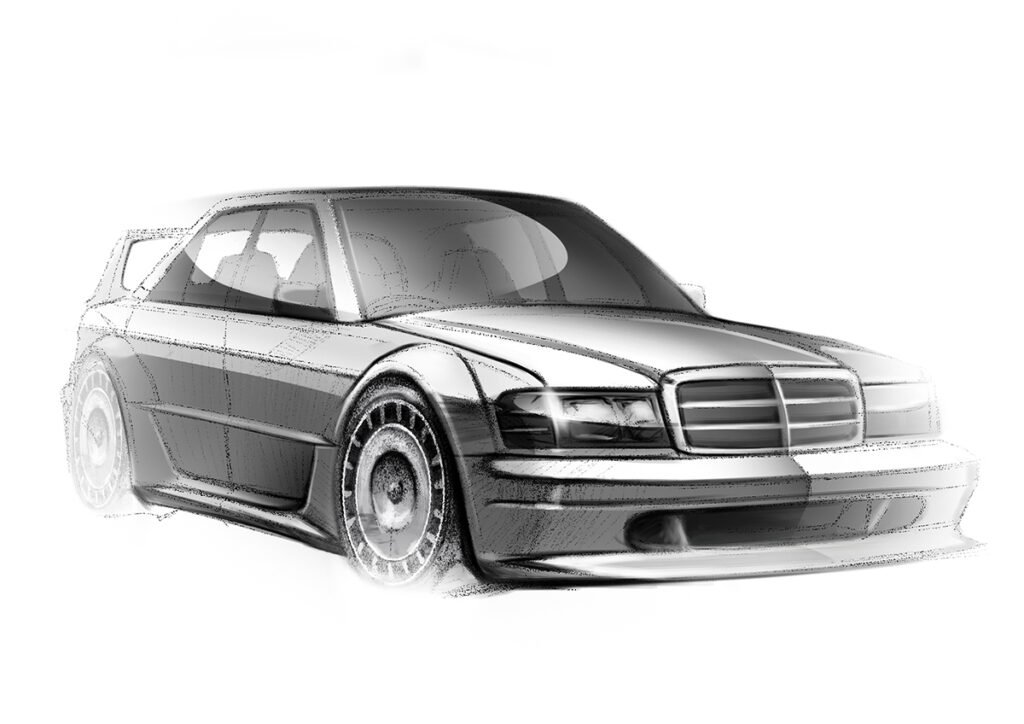 714,000 euros
AMG became the most successful of the Mercedes teams, winning the DTM crown no less than five times. Apart from these sketches, there is not much information on the project. HWA opted for the high-winged Evo II, which debuted in the DTM in 1992 with Klaus Ludwig. With an asking price of 714,000 euros (ex VAT), we can only imagine this will be a full-carbon-bodied project, with a bespoke drivetrain. An original Mercedes 190 Evo II – just 500 copies made – will sell for 300,000 to 400,000 euros these days.
No word yet on the production run, other than HWA stating they want to deliver the first cars to customers at the end of 2025.
No star
One funny detail though. On the sketches, you see one thing missing: the Mercedes star on the bonnet. Just like in the old days when Mercedes disapproved of the tuner's practices and asked for the star to be removed from the AMG-modded cars. Isn't history always about repeating yourself?