Photo RM Sotheby's/The Revs Institute
RM Sotheby's has this very rare piece of Ferrari 308 competition history for sale at this week's Paris auction. The Facetti brothers built just four Ferrari 308 GTBs that competed on track. This one raced in the 1978 Daytona 24 Hours, with Bob Bondurant behind the wheel.
The Ferrari 308 GTB is typically not a car you associate with racing. Magnum P.I. and moustaches, yes. But racing, not so much. The Ferrari 308 GTB was rallied successfully, but these were rally cars that Michelotto prepared to Group 4 specification, and later a Group B version followed. Yes, it needed asphalt in order to really shine, but the 308 won the 1981 Targa Florio rally, the 1981 Ypres rally and the 1981 Tour de France, each time with Jean-Claude Andruet behind the wheel. It took the Frenchman to second place in that year's European championship.
Vetroresina
But in racing, the Ferrari 308's career is even more obscure. The Bresso-based Facetti brothers, Carlo and Giuliano, were quick to realize the new Ferrari 308's potential in racing. The early versions of Maranello's new V8 coupé had a glassfibre ('vetroresina') body, keeping weight down. In 1977, they started transforming a red Ferrari 308 GTB into a Group 4 racing car, thereby preceding the Michelotto effort in rallying.
Jolly Club
The first race for the Ferrari 308 GTB was the 1978 Daytona 24 Hours. Under the famous Jolly Club banner, two cars appeared on the starting grid. The one we have here, chassis 18855, had Bob Bondurant behind the wheel, by then already 45 years of age. Bondurant drove it together with Dino Mallet and Sergio Rombolotti. A plan to get actor Gene Hackman behind the wheel never materialized. The #4 entry was the faster of the two Jolly Club 308s entered, but after 82 laps, the car was out with alternator failure. The Group 4 Ferrari 308s were in any case no match for the turbocharged Porsche 935 K3 entries.
Championship-winner
Carlo Facetti took chassis 18855 to participate in the Italian Group 4 championship, where he notched up no less than four wins, easily taking the Group 4 championship. Mid-1980, Scuderia Vesuvio founder Ciro Nappi bought the 308 from Facetti. He asked Sergio Rombolotti to race it in the Trofeo Leopoldo Carri at Monza. Ciro and his brother Piero raced it on two occasions in 1981, but they would hang on to the car for a total of 38 years before they sold it in 2018.
Mechanical restoration
The new owner found the vetroresina body still in great shape, and only ordered a mechanical restoration. The engine and gearbox received a restoration in the hands of Dutch specialist Roelofs Engineering. Belgian race shop Gipimotor kept it raceready.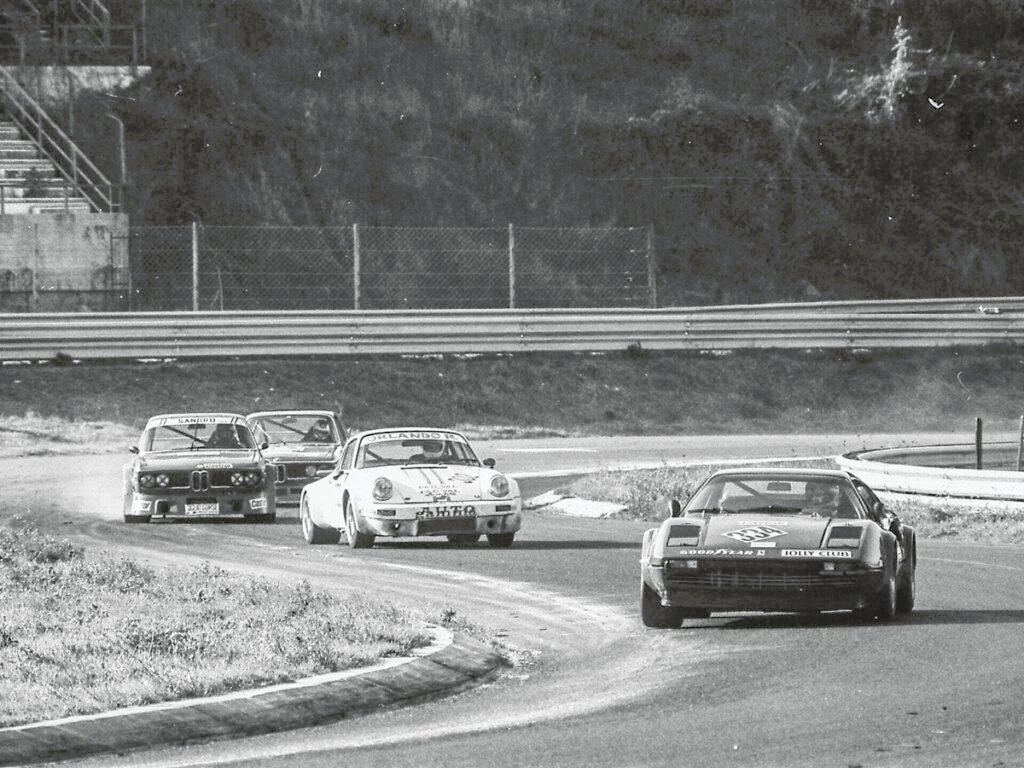 As one of just four existing Facetti Ferrari 308 Group 4 race cars, with Daytona history no less, it's no surprise it comes with a price estimate of 750,000 to 900,000 euros. Regular 308 GTB Vetroresinas already trade well in the 100,000 euros, and this one has not only its history, but is also ready to go for a new season in classic racing.
RM Sotheby's Paris auction runs on February 1st.