Photo Toyota
On October 29th, RM Sotheby's has one of the most impressive single-seater collections ever up for sale. In its 25-year existence, the Newman/Haas team was consistently a powerhouse of Indycar racing. Paul Newman and Carl Haas saw their cars score 108 wins and 8 championships. In this series, we take a closer look at the Newman/Haas history.
In 2002, no one could touch Cristiano da Matta. The Newman/Haas-star won seven of the nineteen races in that year's CART season, and he finished second on three occasions. No wonder the Brazilian took the title in a dominant display, ending up with 237 points. In comparison, his closest competitor, Bruno Junqueira, managed to score 164 points to end up in a very distant second place.
Penske walks out
There is no denying that the 2002 season was not Indycar's finest. This is the midst of the IRL versus CART war. Penske had just abandoned CART in favour of the IRL, seriously devaluating the CART series in the process. Newman/Haas was still a frontrunner and had just switched its Lola chassis to a Toyota turbo power source in 2001. Newcomer Cristiano da Matta instantly made his mark, scoring a victory in his debut race for Newman/Haas.
Four wins in a row
In 2001, da Matta notched up three wins. But that was nothing compared to what he had in store for 2002. Again, da Matta set off with a victory in the first race of the season, in Mexico.
It would take him until the fifth race of the season at Laguna Seca before he steered his car back on victory lane, but this was in fact the start of a series of four successive wins: Laguna Seca, Portland, Chicago and Toronto. All of a sudden, it was clear where the title was headed.
Chassis HU 20
The Lola-Toyota B02/00 for sale here, is chassis HU 20. Da Matta used it for the first time for testing in Homestead, Florida. HU 20's first race was the Toyota Grand Prix at Long Beach. Even though da Matta started from second place on the grid, and led the first third of the race, he would finish eight, ten seconds down on race winner Michael Andretti. In the next race with HU 20, in Chicago, da Matta would start his victorious run. He also used this chassis to score both pole and victory in the next race in Toronto. In Miami, da Matta took his third and final victory with this chassis.
RM Sotheby's offers this car, complete with Toyota engine (number 2462), manuals, laptop and cable and some spares. It should fetch anything between 200,000 and 600,000 dollars and comes without reserve. With stickers signalling da Matta's seven wins, it is a totally unique car in the collection. HU 20, on top of that, also had Sébastien Bourdais behind the wheel at the beginning of 2003.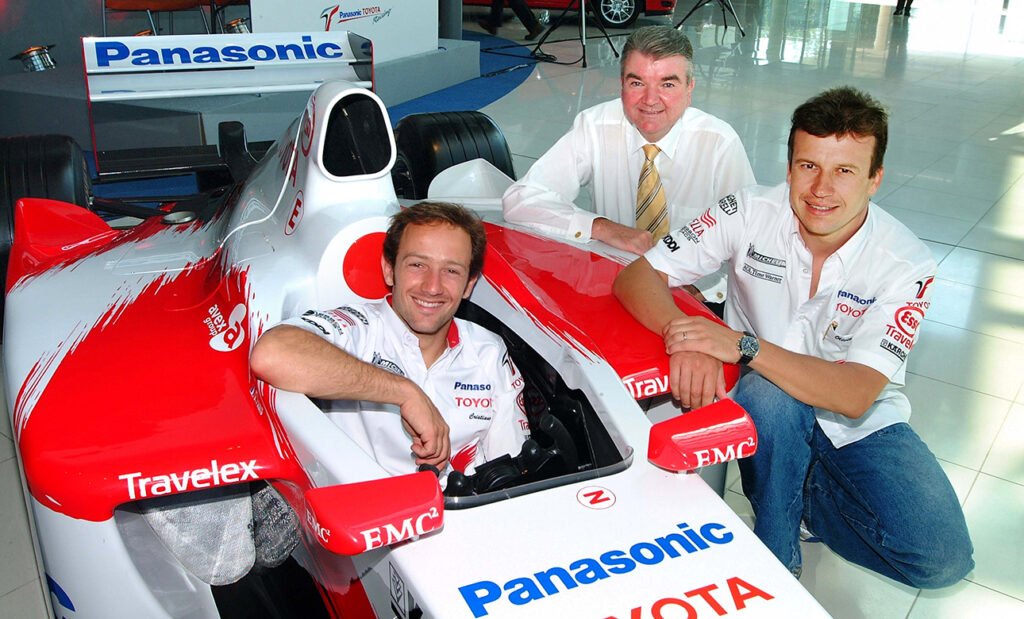 To Formula 1
Cristiano da Matta's effort did not go unnoticed. Firstly, he secured 'Driver of the Year' at the end of 2002 against NASCAR star Tony Stewart. Da Matta was the first Indycar driver since 1993 to win the title and only the third foreign driver to be awarded this honour in the US.
Furthermore, Toyota was so impressed, it signed up da Matta for its Formula 1 team. Truth be told, da Matta did all he could to do his reputation justice. Not only did he finish his first season in Formula 1 with ten points to his tally, he also led the British Grand Prix for seventeen laps. It was enough to make Rookie of the Year' in F1, an inofficiously awarded title. 2004, however, was a turning point. Only in Monaco did da Matta score a single point. After ten races, he turned his back on Formula 1.
Elkhart Lake drama
Da Matta returned to CART, won a race in 2006 but also was seriously hurt in a freak accident when his car hit a deer at Elkhart Lake. Da Matta was airlifted to hospital in critical condition. He would survive, but the head injuries he sustained in the accident brought his racing career to an end.
This car is one of 36 Indycar single-seaters from the Newman/Haas collection RM Sotheby's auctions off on October 29th. More info on this one-of-a-kind sale here.