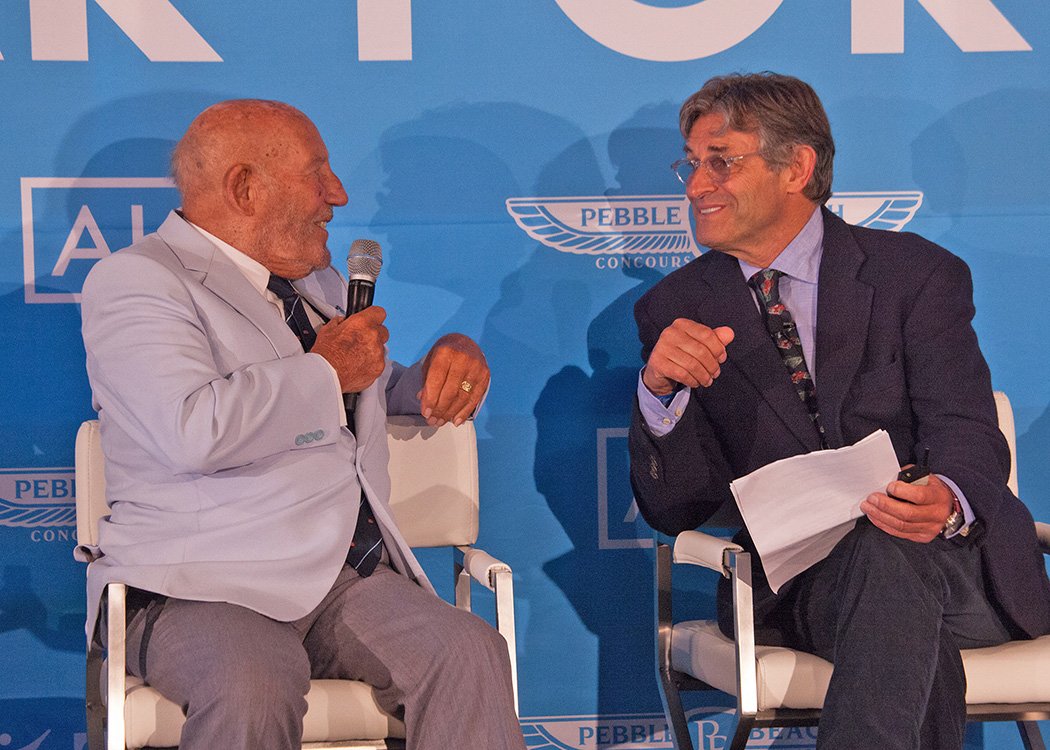 Photo Newspress
Le Mans has lost one of its fiercest fans. During the weekend of Le Mans Classic, the message spread that Alain de Cadenet had passed away. He was aged 76.
Alain de Cadenet participated no less than 14 times in the Le Mans 24 Hours. He was not just a driver, but went as far as entering his own car in 1972. The first De Cadenet sports car used Brabham parts and was designed by a still young and unknown Gordon Murray, working at Brabham at the time. De Cadenet was running a privately entered Brabham BT33 for Chris Craft to drive in Formula 1 at the time.
Gordon Murray design
The car ran as a Duckhams LM, to honour the main sponsor. De Cadenet and Craft drove it to twelfth place. It ran as high as fifth at some point. As the story has it, De Cadenet asked Murray to build him a two-seat sports car 'looking like the Ferrari 312PB' and using as many of his Formula 1 Brabham parts as possible. Murray worked on the project after hours, as Brabham owner Bernie Ecclestone wasn't too keen on it. They used a Cosworth DFV F1 engine to power the car. For 1974, the car came back in altered form, now as a 'de Cadenet'.
Alain de Cadenet was born in 1945 as the son of a French lieutenant in the air force and an English mother, Valerie, who was a Hollywood actress. After stints in banking and photography, Alain de Cadenet turned to racing in the UK in the sixties. With financial support from his family, he was able to buy some good cars. In 1971, he appeared at Daytona in a NART-entered Ferrari 312 and showed up at Le Mans for the first time in an Ecurie Francorchamps Ferrari 512M. Failing to acquire a Ferrari for 1972, he set out to have his own sports car.
On the podium
By 1976, de Cadenet was a seasoned Le Mans entrant. With an improved 'de Cadenet' Lola T380 with a Cosworth DFV V8 in the back, de Cadenet and Chris craft finished third overall, an incredible success. In 1977, they were rewarded with fifth place.
See Also
Later on, Alain de Cadenet supported Desiré Wilson in sports cars, making her the only woman to win rounds of the World Endurance Championship (WEC). The 1000 Km in Monza was impressive when de Cadenet sent Wilson out on slicks in the wet. Officially, it was called a big gamble. In reality, the team had no wet tyres available. Wilson made the most of the conditions and scored a win. One race later, in the Silverstone 6 Hours, de Cadenet and Wilson triumphed again.
TV career
After his driving career ended, de Cadenet became known for his television appearances. He became one of the world's biggest ambassadors for classic cars and racing. A charming presence, he will perhaps be most remembered for the clip where he is introducing the Spitfire WWII fighter plane, only for the aircraft in question to do its best to shave his hair off when it passes him at take-off. Alain de Cadenet was battling cancer over the last couple of years.