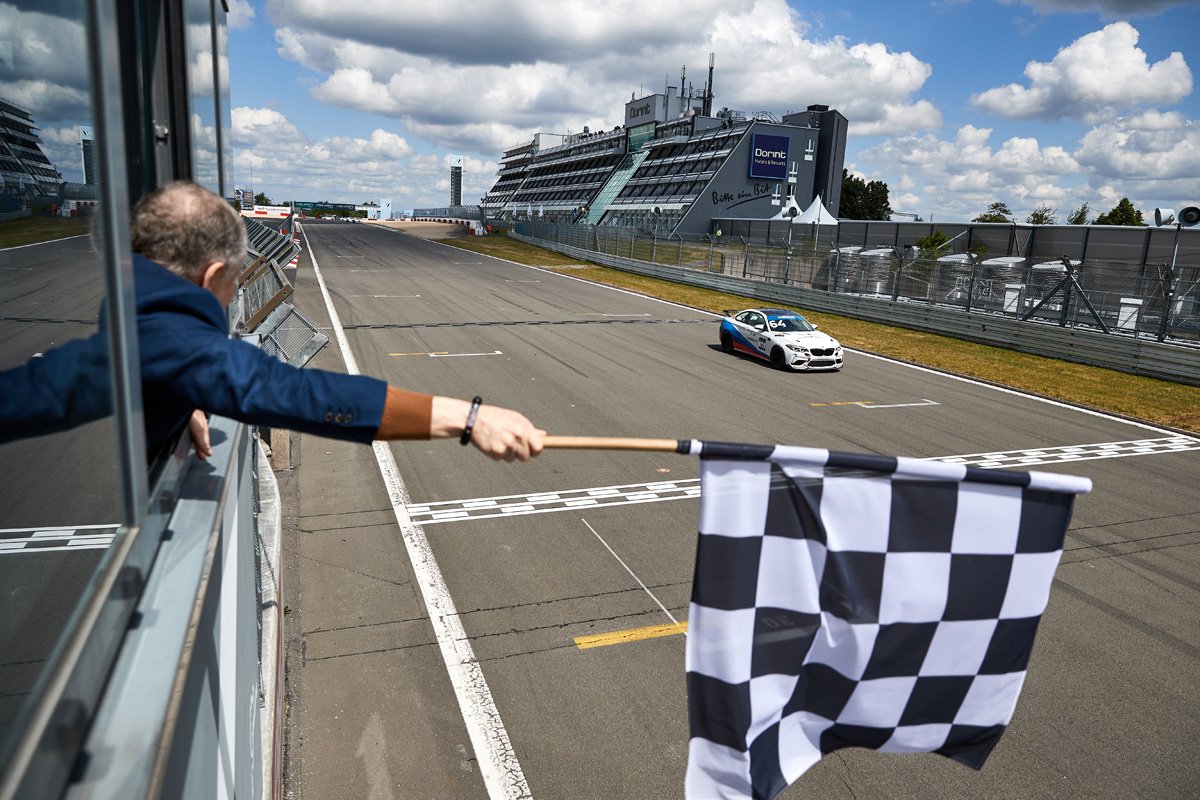 Bill Auberlen (USA) was on form in the celebrity race BMW had organized prior to the Nürburgring 24 Hours for the 50 years of Motorsport. He beat Johnny Cecotto and Steve Soper in the run to the flag.
It was a race reminiscent of the fabled Mercedes celebrity race, held at the opening of the same Nürburgring GP lay-out in 1984. Then, it was a still-unknown Ayrton Senna who turned the establishment on its head.
Minimum age 50
Now, the philosophy was much the same: star drivers in equal cars. Only this time, the cars were not souped-up road cars, but significantly improved M2 CS race cars BMW uses for trophy races in Europe. To participate, BMW imposed a symbolic minimum age limit of 50 years.
A star cast turned out: former BMW Junior Team driver Eddie Cheever (USA), Olaf Manthey (D) who raced M3s in the DTM, long-distance BMW factory driver Dirk Adorf (D), F1-legend Arturo Merzario (I), former DTM champion Eric van de Poele (B), F1 and Le Mans-star Jochen Mass (D), Bill Auberlen (USA), Johnny Ceccotto (VEN) and his forever rival Steve Soper (GB), Harald Grohs (D) and M GmbH boss Franciscus van Meel (NL).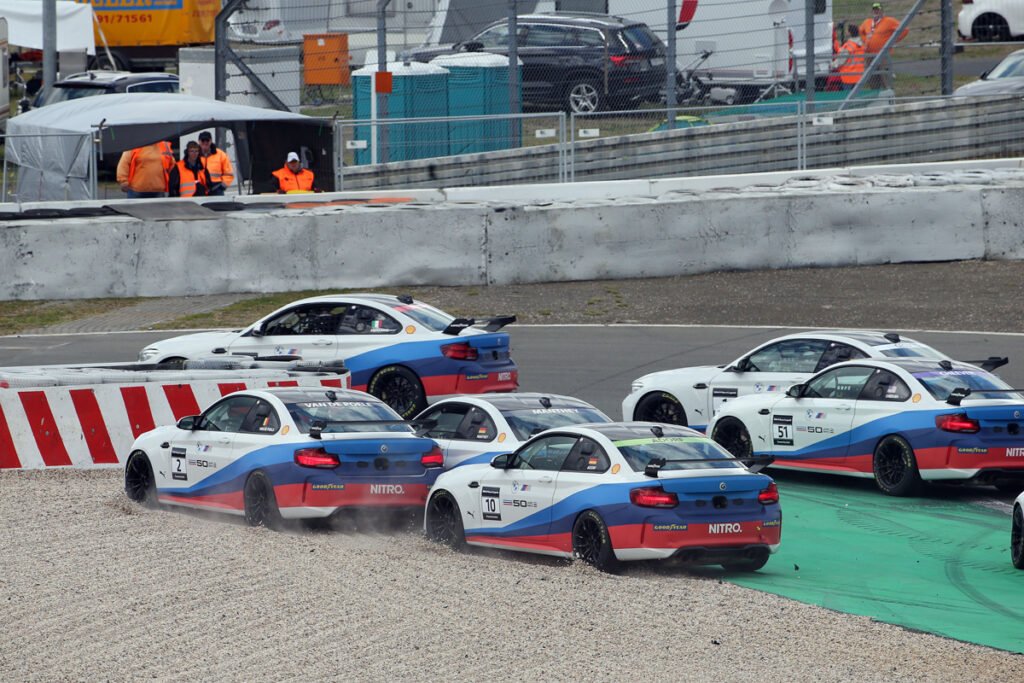 Trouble at the start
The race started in reverse order of the qualifying times, putting Auberlen and van de Poele right at the back. As drivers had to perform a Le Mans-style running start to their cars, that handicap was quickly overcome.
Unfortunately, in turn one, Merzario missed his braking point and ran into the side of Harald Grohs. Grohs took both van de Poele and Adorf off in the sandtrap. For van de Poele, it was race over on the spot. Manthey and Adorf were able to rejoin, but had to abandon later on.
At the front, Steve Soper initially held on to the lead, but Bill Auberlen came storming through the field.
Soper vs Cecotto
With Auberlen taking off into the distance, Soper had the next challenge appearing in his mirrors; his old friend Johnny Cecotto. At respective ages of 70 and 65 years, the two tin-top aces proved they are still up for it when the occasion arises. We have to admit it, with just one more lap to go, Cecotto beautifully executed a pass on our Tazio columnist in the NGK chicane. Cecotto left his move late and swept by on the left.
See Also

Soper immediately came back on the inside of the Coca Cola curve, prior to start-finish. Both left each other enough room, even if there was some body rubbing. Soper got his place back in what was a classic bit of touring car racing.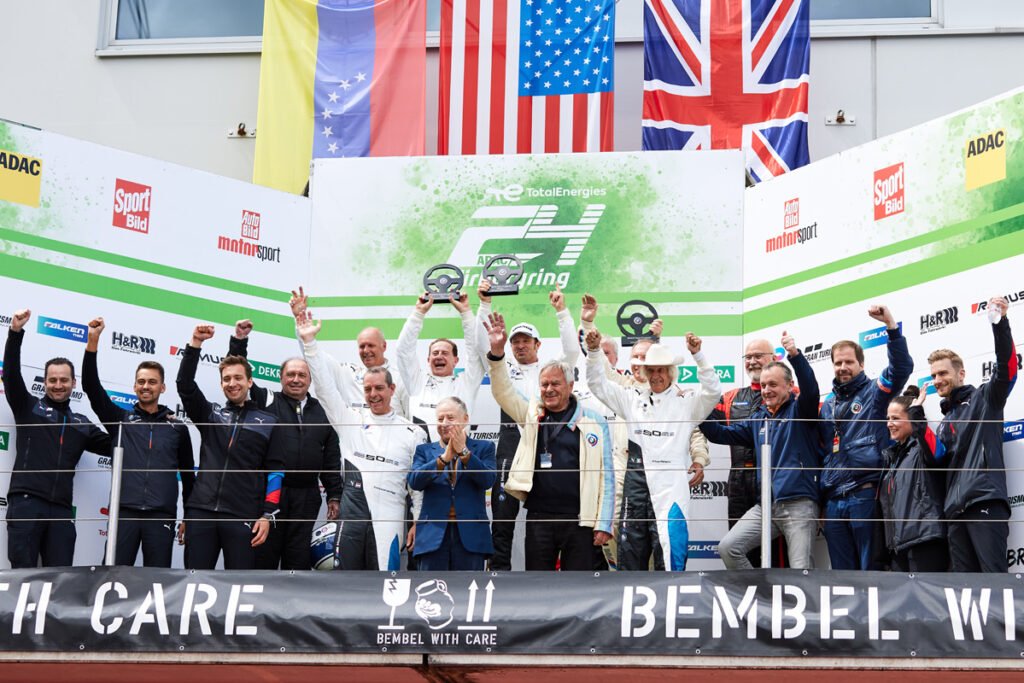 Eventually, Steve Soper would lose his hard-fought second place. Again in the NGK chicane, Soper took a bit too much speed through the corner and found himself just over the kerbstones. He lost his pace, which allowed Cecotto through in second.
BMW should have more of these celebrity races.
You can relive the full race here.