Photo Noortje Blokland/Maturo Competition
Dutch specialist Maturo Competition will build you two cars: a factory-spec Lancia Delta Integrale… or a 'Stradale' street version, with the same components. That all sounds pretty hardcore. Music to our ears.
The Lancia Delta Integrale has reached mythic status for some years now. It's right up there with the Imprezas and the other Escort RS Cosworths, very much the top of the Group A WRC food chain. With that have come exploding prices, of course. Especially the Evo versions of the Delta Integrale have become ridiculously expensive. An evolution which has opened up the market for new approaches. One of them leads us to the Netherlands, where we find Maturo Competition in Veghel, close to Eindhoven.
Italian + roll cage
Maturo Competition is the company Frank van Ganzewinkel and Marco Geeratz created, and it has a long-standing tradition. When we walk in, the crew is working on a Lancia 037 project and a Ferrari 308 Group 4, next to a couple of Deltas. In short, if it's Italian and it has a roll cage built in, it will find all the love a car needs in here. The focus is mainly on rally, but some new projects have caught our eye as well.
Kankkunen's 1987 winner
"I was a customer before with Frank, but then I bought an eight-valve Lancia Delta rally car," Geeratz explains. "It had been a car used in the Dutch rally championship, but the further we delved into its history, the more interesting it became. It turned out my car had been a former works car, the one Juha Kankkunen used to win the 1987 Olympus rally, the USA round of that year's world rally championship. Later on, it had been upgraded to Integrale spec. Frank had been doing research on the Deltas for years, and this was another occasion to really look for the differences on how these Deltas were built up over time."
Newly developed rally Delta
Years of research and practice put Maturo Competition in a position where people from Italy call them if they want to know something about rally Deltas. "In the coming years, you will see the Delta become eligible for the historic rally competitions. Which got us thinking. Rally is a tough sport on a car, and with the current prices only going up each year, do you really want your original Delta to suffer all the abuse it takes from a season of rallying? We thought not, and that is why we have started developing our own Group A Deltas, ready for rallying."
We have developed around 2000 parts ourselves

Marco Geeratz – Maturo Competition
Others do this as well. But Maturo has taken a slightly different approach. "Based on the original works cars as they were built at Abarth, we have reverse-engineered their work to fully understand what they were doing and why they were doing it," Geeratz tells us as he shows us around the warehouse where the parts are stacked up.
"We have developed around 2000 parts ourselves, with the aim of improving durability. The original works cars only had to last one rally before they were fully stripped and new parts were put in place. This is of course not the bill you want to present to an amateur driver, so we have reinforced some parts to make them last longer. This adds a bit of weight to the car, but running costs are lower this way."
Bigger tubes
"The original Deltas did not have the best torsional rigidity. We have improved this by using bigger tubes for the roll cage. Similar small improvements come from the engine management, it's a new system but we keep it in the old box so it looks the same. Same thing for the turbo. We keep the Garrett T2/T3 turbos, but use smaller turbines that spin up faster, improving drivability. Similarly, we opted for a reinforced clutch as well, so it would last longer. The engine and gearbox are built-up in-house."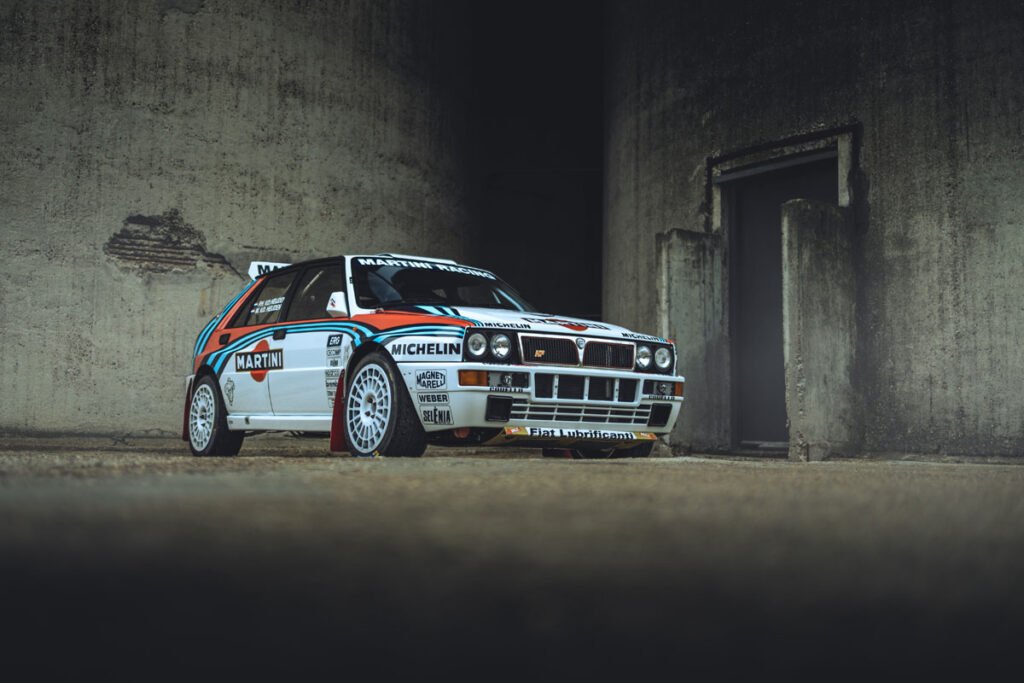 The transformation always starts with a regular Lancia Delta. "No matter the state it is in. In fact, the more rotten, the better," Geeratz says. "We take the whole car apart anyway. The transformation to rally Delta takes us around 1800 hours and costs around 350,000 euros. The car comes with FIA HTP papers."
Ten Stradales
Another project has caught our attention as well. "We had all the improved parts for the rally cars, so we thought: why not make the ultimate road-going Delta Integrale as well?," Marco Geeratz smiles. Different to the Amos Delta, Maturo Competition's Delta Integrale Stradale will retain the four-door concept, even if the original steel body will be replaced by a carbon body.
"The aim was to make this the best handling Delta for the road ever. A Group A with number plates. But not an extreme car, we want this to be a Delta you can drive every day as well. This is why we also keep the rear seats. We offer the engine with 230 hp to begin with, but we can easily go to 280 hp with the 2-litre turbo four if the client wishes. The Stradale will cost around 300,000 euros and we plan to make ten cars. We will name each one after one of the famous rally stages the Deltas have won."
Due to the corona crisis, the program has been delayed a bit. But Maturo is readying the Stradale prototype as we speak. It will be presented at the Interclassics classic show in Maastricht, Holland (January 12 – 15th, 2023)