Photo Julien Mahiels
Gordon Spice passed away at 81 on September 10th. One of Britain's most flamboyant racers, he will forever be associated with Ford Capris. But Spice was way more ambitious than that.
Life was one big party for Gordon Spice, and cars just happened to play a very important role in that. Pulled into racing through his brother Derek, Gordon Spice made his debut in 1962 in an MG TF. In 1964, he raced at Le Mans for the first time.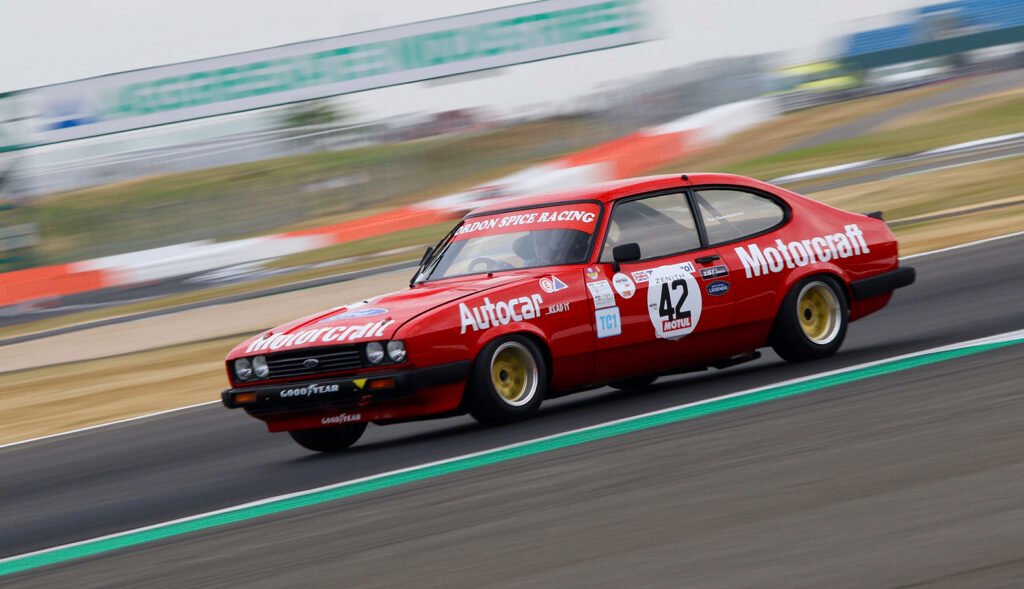 Formula 5000
It wasn't until he started racing Minis in what is now the British Touring Car Championship (BTCC) that Spice started making a name for himself. At the same time, Spice was building his car parts shop into a commercial success. Success in business made it so that racing always came second, even though he raced with the ambitions of a pro driver. Outings in Formula 5000 led to a big shunt at Mallory Park. The recovery in the hospital took weeks. With that, Spice's single-seater career was over.
At that time, Spice had already started what would become his signature project: the Ford Capri. Spice would win his class for six years in the BSCC, now BTCC, with the 3-litre V6 Capri. He would also win the Spa 24 Hours with a Capri in 1978, the last time that race was held on the old, long circuit. In 1979 and 1980, his Capris would win in Spa as well.
Group C
With the introduction of Group A, Spice moved his attention towards prototypes and back to Le Mans. At first, with a Rondeau-Cosworth, netting third place in 1980 and 1980. Later, Spice started developing his own cars. The plan at first was to start a Group C effort for Ford, but that ultimately didn't go Spice's way. So, together with Ray Bellm, he founded Spice Engineering which at first modified Tiga chassis but ultimately built their own chassis for Le Mans and the WEC in the C2 category, the smaller Group C division. Spice would take the world title in his class in 1984. Spice cars would also run in IMSA.
See Also
Moving up to the big Group C class among the manufacturers proved difficult, but when the big boys pulled out, Spice scored fourth place in the 1990 world championship. Plans were even hatched for Formula 1, but ultimately Spice would close its doors after the 1995 season.
With Gordon Spice, motor racing loses one of its biggest entertainers and raconteurs. Gordon Spice lost his battle with cancer, he was 81. His autobiography is well worth the read.