We are really proud on this one: the Harlekin Porsche 911 GT2. Not seen for 25 years, and now for the first time on the move again… for Tazio.
Together with Issue 2, a new book is coming out on the Porsche 993 GT2, the first to carry that badge. It's not one book, it's two actually. One book focuses on the road cars, the other book for the first time details the competition history of one of the most famous of racing-911s.
Through the mid-nineties, the twin-turbo 993 GT2 delivered a minimal output of 450 hp – a very conservative estimate – and would just be delivered to any amateur-racer willing to pay the price Porsche's client motorsport department asked. The Porsche factory never officially raced the 993 GT2, but did lend some extra support to some clients. It was the car to have for the GT2-category in the BPR series.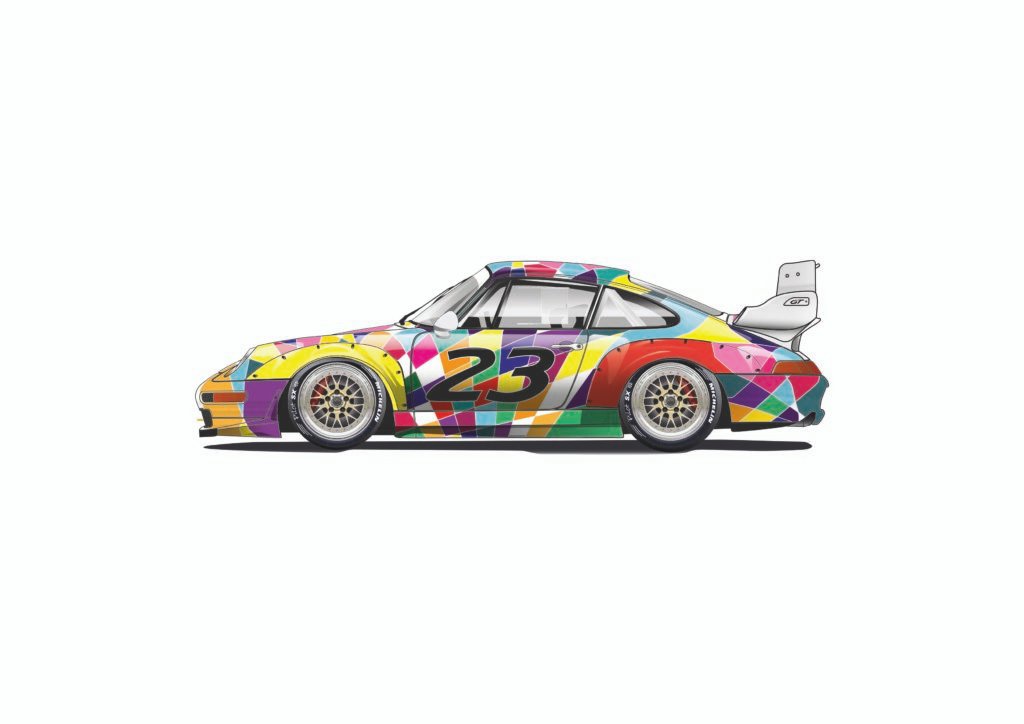 And now for the Evo
The car we have with us is the Harlekin 911 GT2 Evo. The Evo pushed power to 600 hp and weighed another 50 kilos less. For the presentation at the Frankfurt Motor Show in 1995, Porsche decided on this wicked colour scheme and baptised the car 'Harlekin'… much like Volkswagen had done previously with the tiny Polo.
After the motorshow, Porsche sold this car to an Asian collection and it was not seen in public again. It was also never raced. Today, the car has just over 400 kilometres on the clock. It resides now in the collection of German specialist Mechatronik, who happily agreed to bring it to Chambley for our photoshoot.
Not ideal circumstances
We did encounter one bit of a problem, however: the car came on old slicks, and Chambley was wet, freezing cold and a light drizzle hampered our movements. Now read that again: a car not seen in 25 years, never raced, first paint – that decoration really is painted on – and only 400 kilometres on the engine. So, we tiptoed it around the track, and even that turned out to be not so easy. We have to say we were very happy to see the car go back in the truck in exactly the same condition as it was delivered.
In Issue 2, you can read the whole story on the 911 GT2, thanks to exclusive excerpts from the book. All profits from the book go to the victims of the floodings in Germany earlier this year.
See Also

More info on www.rpm-books.com
Huge thanks to Mechatronik and Rennstall, and Francis Maillet Competition for the use of the Chambley racetrack.
More from Issue 2 here.