Photo Porsche
The parade of Porsche 956s and 962s, headlights piercing through the beginnings of night, was one of the highlights of Goodwood's 79th Members' Meeting. A magical moment.
Group C is forty years old, and it was also the fortieth anniversary of the Porsche 956's first appearance at the Le Mans 24 Hours. The Porsche 956 and its successor, the 962, are the defining Group C cars. Consequently, a bit of a party at the 79th Goodwood Member's Meeting was easily justified.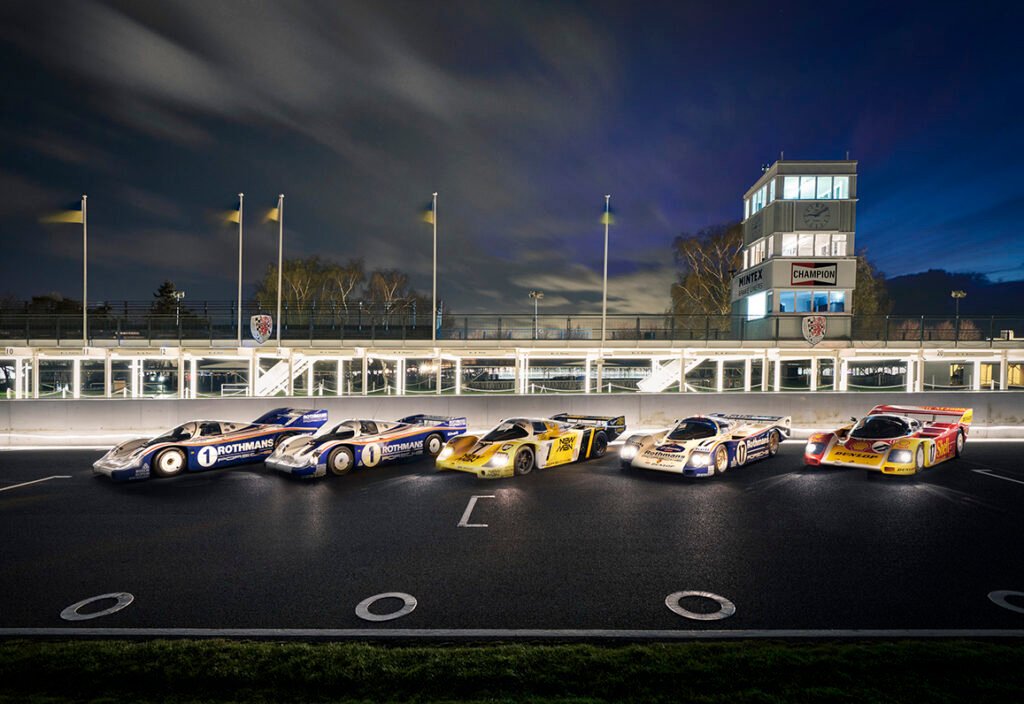 Demo laps
On Saturday evening, a field consisting of some fifteen Group C Porsches lined up as the sun started to set. The familiar sounds of the whispering flat-six and the whistling turbos filled the air as they got underway for a series of demo laps behind a pace car. The 956 and 962 won Le Mans on seven occasions. A couple of winning cars showed up, among them chassis 002, winner of the 1982 Le Mans race. Also present, chassis 007, the famous Joest entry in Newman colours that won Le Mans in 1984 and 1985. Max Girardo brought chassis 004 along, 2nd in the Spa 1000 Km-race in 1982.
Most cars came from Henry Pearman's private collection, including chassis 114 driven by John Watson. Pearman provided no less than nine cars. Shaun Lynn showed up with chassis 001 and Elliot Ross' road-legal CK6 (a Kremer chassis) could be seen leaving the circuit by the road after the event, as one does. Seeing them all blast by through the chicane was definitely the highlight of the weekend.
Fast Maserati
The V10 Formula 1 demo run was impressive all the same, but missed the spectacle night-time driving adds. We did enjoy Steve Griffiths first run in the Peugeot-powered Jordan 195 tremendously. That and of course the thunder produced by eight Lola T70 Spyders entered in the Surtees Trophy, including the former Team Surtees T70 Ewen Sergison drove for Avit Motorsport. Moreover, in the Peter Collins Trophy, David Hart's pace in his Maserati 300S surprised many.
Frazer Nash incident
Unfortunately, on Sunday proceedings stopped for some time when Paul Waine suffered a big crash at St Mary's in his 1935 Frazer Nash. The chain-driven car rolled and broke up, throwing the driver out. Waine was airlifted to a hospital in Southampton. According to a report on frazernash.co.uk, Paul Waine has broken his sternum and multiple ribs. A very unfortunate ending, but considering the severity of the crash, the outcome is better than most at the track feared.
All in all, the sold-out 79th Members' Meeting was a big success. On to Festival of Speed and Goodwood Revival now.