Photo Carlo Senten/Masters
View Gallery
From the Barcelona cold to a sunny day in Donington. Masters Historic Racing's first UK meeting of the season saw plenty of drama in all categories.
Even the handicap of starting from the pitlane could not stop Martin Stretton from taking victory. Stretton's Tyrell started the race from the back, after he had experienced fuel pick-up problems in race 1. This caused him to have to settle for second whilst in the lead for most of the race.
In race 2, Stretton passed Greg Thornton's Lotus 91 for the lead with just three minutes left on the clock. Race 1 winner Steve Hartley experienced opposite fortunes. He saw the clutch of his McLaren MP4/1 disappear on lap 1.
Clutch trouble
Ken Tyrrell inherited the lead from Hartley on race 2, right up until he lost his clutch in similar fashion in his Tyrrell 011. This let Greg Thornton in the lead right up until "I saw Stretton in my mirrors. My radio was inoperative. I tried to stay with him, but you know, he can drive…" Thornton had also finished in third place in race 1.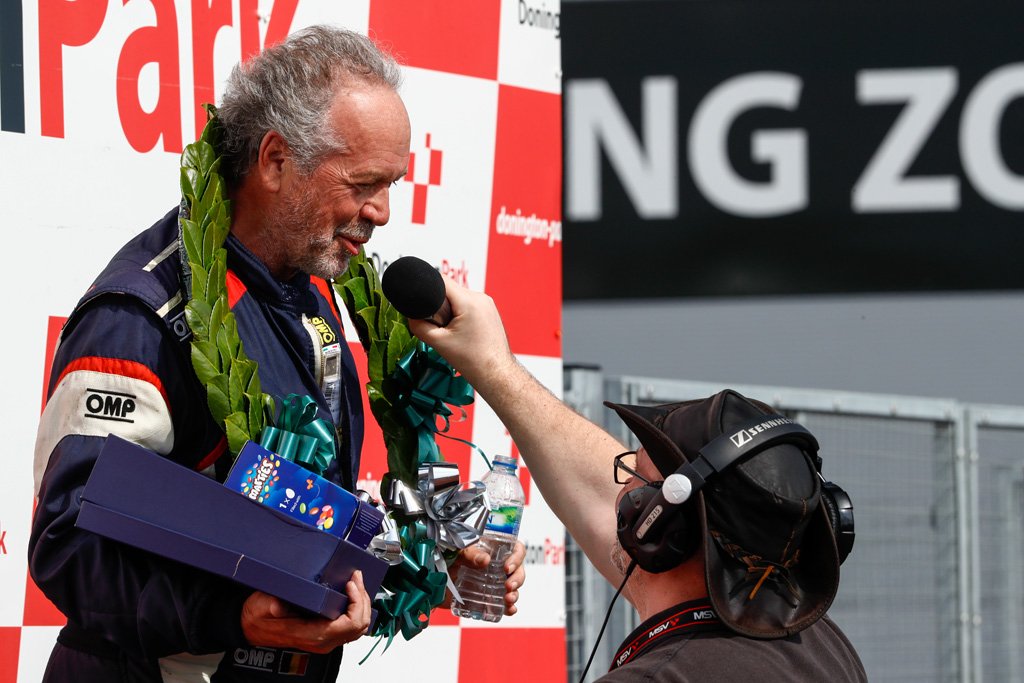 In the pre-78 Formula 1 class, Maydon and Marc Devis had a big battle in race 1, which Maydon settled in his favour. In race 2, they reversed the order and Devis narrowly beat Maydon to the finish.
Chevron heydays
In the sports car race, Andy Wilis in the Lola T212 was able to profit from pole sitter and early leader Tom Bradshaw's ill-fortune. Bradshaw was leading by over 30 seconds, when he couldn't get his Chevron B19 going again after his mandatory pitstop. Bradshaw lost two laps in the process. Jamie Thwaites and Dean Forward in their Chevron B19 would take second, in front of Mark Hazell and Martin O'Connell in another B19. Nuttall and Burke took the honours in the Bonnier class in a Chevron B8.
See Also
Mustang beats Falcons
In the pre-66 Touring class, Craig Davies nosed his Ford Mustang in front of the Ford Falcons of Thomas/Lockie and Sam Tordoff. Some luck with a safety car period played in Davies' hand, with Lockie complaining of "massive oversteer." Tordoff would drop out due to a broken manifold. This handed Spiers and Greensall third place in their Cortina, also winning the Cortina class.
Full results here